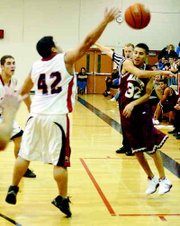 They may not count on the official season record, but victories in two "mini-games" by Grandview's boys basketball team at the Sunnyside jamboree Tuesday night provided a hopeful start.
In addition to walloping Wapato, the Greyhound boys sneaked by Sunnyside 39-37 to go 2-0 in the jamboree. The Wapato score and statistics for the two games were not available at press time.
"We played pretty well and did a good job in our half-court offense," said Grandview Coach Scott Parrish.
While there was a lot to like about Grandview's play in the two contests, which featured five-minute quarters instead of the regulation eight-minute stanzas, there's still plenty of room for improvement, according to Parrish.
"We were sloppy at times and made silly mistakes in our ballhandling," the coach said, while crediting defenses by Wapato and Sunnyside for some of his squad's miscues.
Blocking out on the boards was also a concern expressed by Parrish, "We gave up too many offensive rebounds."
Starting this Friday the games count for Grandview's boys when they travel to 3A Wapato. Parrish added, "The jamboree gave us some things to work on and definitely showed us where we can improve heading into the season."