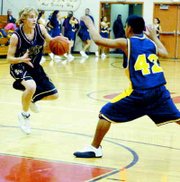 Against two Class 3A schools, the Sunnyside Christian Knights held their own at Tuesday night's jamboree at Sunnyside High School.
"We had a great time, it was fun," said Knights Coach Dean Wagenaar.
In their first match-up of the night, Sunnyside Christian faced Wapato.
Sunnyside Christian's B team outscored the Wolves 10-9, led by sophomore Andy Freepons, who scored four points.
But the Wapato A team outscored the Knights 16-14 to give the Wolves a win, 25-24.
Against the Wolves, junior Aaron Van de Graaf had nine points, and senior Matt Haak dropped in five.
Wapato hit a shot with four seconds left to steal the victory, Wagenaar said.
Despite the loss, Wagenaar said his team played well, with great shot selection and good ball control.
The Knights only had two turnovers against Wapato.
"We wanted to play with them and be even with them," Wagenaar said.
He said his team needs to do a better job guarding last-second shots.
The second game pitted the Knights against the Sunnyside High School Grizzlies.
The Grizzlies' B team outscored the Knights by four points in what Wagenaar called a "wild, fast-paced, exciting" half.
Sunnyside trapped, pressured and shot threes against the Knights, Wagenaar said.
Junior Brandon De Vries led the Sunnyside Christian B team, dropping in seven points. Junior Lucas Brouwer added six to the Knights' cause.
"The varsity game was somewhat like that," he said.
But the Knights' A team outscored Sunnyside in the second half, 26-22, which left the teams deadlocked at 51 apiece.
Sophomore Joel Koopmans and senior Matt Haak each scored eight for the varsity. Senior Chad Den Boer added six.
Wagenaar said he didn't think his team took as good care of the ball against Sunnyside as they did against Wapato. However, he thought his team did other things well.
"I thought we did a pretty good job defensively," he said.
Despite the fact that the Knights came away from the jamboree without a victory, Wagenaar said he and his team like it because it gives them a chance to play against bigger schools, who may have better athletes.
The Knights open defense of their State B title this Friday at home when they take on Liberty Christian.
Wagenaar said his team isn't focusing on repeating as state champs.
Right now he said his team goes into each practice with the intent to get better.
They do talk about winning another title sometimes, though.
"We would love to do that," he said.