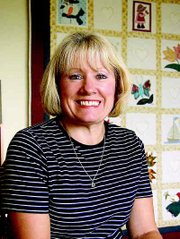 by Frances Potts
After 27 years as a Hospice nurse, home health care provider and manager of emergency room intensive care, a Seattle lady has found her way to Sunnyside
Debra Roe is the new clinical director at Lower Valley Hospice and Palliative Care at 3920 Outlook Road.
Her arrival on Aug. 15 was eagerly awaited by Hospice staff, who were expressing hopes that Roe could add to the ongoing improvement in the care they provide for patients who have been diagnosed as terminally ill.
"I think they were looking for suggestions, and I do have some ideas," said Roe, who has quickly become 'Debbie' to staff and people she's met in the community.
"We have plans for 2006 to bring new services to our patients-music therapy, massage and aroma therapy." said Roe, "I'm excited about that, and we will also have additional educational programs for our nurses."
She said that the extensive training program for patient care volunteers established by Carol Bos in the winter of 2004 is a foundation they plan to build upon. "We are also arranging orientation for new volunteers. We have nine volunteers, and are always looking for more to perform tasks and be with the patients we have," said Roe.
"My primary job here is to oversee patient care. We have 30 Hospice patients and 26 HeartLinks."
HeartLinks is a program that the Sunnyside Hospice designed to help critically ill patients who have decided to seek treatment for their serious and perhaps fatal diseases, thus putting them outside the scope of Hospice services.
Roe's umbrella of responsibility covers Hospice's social workers, registered nurses, aides, patient care volunteer coordinators and the bereavement chaplain, the Reverend Michael Fitzgibbons.
Roe meets weekly with all of the staff. "We discuss all of the patients, their care and how to deliver better care," said Roe, adding that she is there to support her nurses.
She said they are also starting a campaign that will deal with end-of-life issues.
Also on the agenda is a workshop entitled Grief and the Holidays.
"It is a program to try to help the people whose loved ones have passed on. We want to try to help them cope with that first, and even second, holiday without them," said Roe.
The workshop will be held at the Sunnyside Community Center on Nov. 17 from 2 to 4 p.m., and will be repeated from 6 to 8 p.m. to accommodate those who work. Chaplain Michael Fitzgibbons will direct the sessions.
"We hope this will be encouraging and supportive. We encourage the public to come," said Roe.
Although a newcomer to the Valley, Roe was a frequent visitor to Sunnyside before moving here in August, because her son and daughter-in-law, Joshua and Patty Roe, with their three children are residents here. Her son is a paramedic and firefighter with the Sunnyside Fire Department, and Patty works at Comprehensive Mental Health.
"As we get older, we begin to think life is kind of short and you want to spend it with your loved ones," said Roe, speaking of the motivation she had for selling her home on Bainbridge Island to move to Sunnyside.
"I had visited here a lot, so I knew what the Valley was like, and I love the weather. I don't miss the rain. I am finding Sunnyside to be a very friendly community," she said.