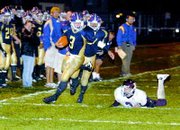 MABTON - And then there was one! As in only one unbeaten team remaining in the Central Washington 'B' League.
Last Friday night, the last of the unbeaten football teams in the Central Washington 'B' League squared off. When all was said and done, Mabton found itself on the top perch, thanks to a 15-0 shutout over the visiting Kittitas Coyotes.
Having beaten all of the upper echelon teams in their conference, does that mean the Vikings (4-0, 5-0) are now a shoo-in for the league crown? Not hardly, according to Mabton Coach D.J. Search.
It's like we tell the kids, said Search...you have to show up on Friday and prove you're the best team.
"On any night anyone can win, and anyone can lose," he said.
Still, Mabton has smooth sailing to this year's league championship, considering the Vikings' four remaining league foes have a combined record of 5-14.
Next up for the Vikes is Manson (0-3, 1-4). Mabton will take the long road trip to the small community about five miles northwest of Chelan this coming Friday.
"The road trips in this league are killers," said Search, intimating that anything can happen on the field after spending four or five hours on a bus.
To get by Manson, Search said his club will have to stop a team that runs an offense very similar to the one his Vikings employ.
"What we do know about Manson is that they'll play very hard," said Search. "We'll have to come ready to play."
This past Friday, the Vikes were every bit ready to take on the Kittitas Coyotes, who brought a 2-0 league record into Mabton. As well as Kittitas had played prior to last Friday's match-up, the Coyotes didn't exactly resemble a championship caliber team, though.
Mabton held the visitors to just 157 total yards of offense-31 through the air and 126 on the ground. The Coyotes' leading rusher was Louis Burketa, who netted just 55 yards on 18 totes.
Exactly how did the Vikings take the wind out of Kittitas' sails? Simply put, by playing team football.
"Everybody focused on their assignments," said Search. "When we made a stop, there wasn't just one kid making the tackle. There were three, four, five or six kids tackling the ball carrier."
The defensive pressure Mabton put on the Coyotes paid a dividend in the third quarter. The Vikes' Eli Perez and Vicente Tovar gang-tackled Kittitas QB Mike Reno in the end zone for a 2-point safety, which padded Mabton's 13-0 lead to a cushy 15 points.
Offensively, Mabton got all the points it would actually need when QB Alex Zavala capped off the team's second possession of the game with a 2-yard dive over the goal line. Luis Quintero's PAT gave the Vikings a 7-0 lead.
Mabton added a second touchdown in the second quarter, on a 12-yard pass from Zavala to Pablo Sanchez.
Sanchez ended up hauling in three of the five passes Zavala completed in the game. Sanchez, too, had a game high 96 rushing yards on 19 carries. Ray Elizondo was Mabton's second leading rusher, tallying 87 yards on nine hand-offs from the QB Zavala.
The Vikings also had offensive numbers of 20 rushing yards on 11 totes by Zavala, who added 63 aerial yards on a 5-for-11 performance; two catches for 30 yards by Eric Tellez; and 14 rushing yards on two carries by Perez.