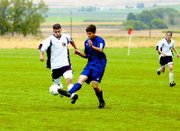 Riverside Christian shut out the Knights 4-0 on a chilly rain soaked afternoon last Friday in Sunnyside.
The score was 0-0 during the first half with John Bosma making some incredible saves.
A new offensive line-up didn't produce any goals in the first half so the Knights went back to their normal game plan for the second half.
The rain really started to pick up in the second half but Knights Coach Russ Smies didn't think that really made a difference.
"We both played in the rain," he said. "I don't want to blame the weather. Our first two victories of the year came in the rain," he added.
Riverside scored two quick goals early in the second half and added to that late in the game.
"John Bosma played fairly well," Smies said.
We need to move to the middle of the field and control it, he said. Lazy and stupid are two things I can't handle. There is no room for these things, Smies added. You gotta be smart and work hard.
"If you play dumb for two minutes then they score two goals against you and 2-0 is a high scoring soccer game."