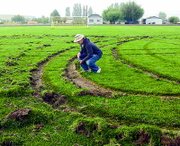 by Frances Potts
Some time over the weekend, vandals cut six-inch deep doughnuts in the soccer field and front yard at Sunnyside Christian High School.
"We have no estimate of damage at this time and no suspects," said investigating police officer Sgt. Jose Trevino.
The vandalism was reported to police at 7:21 a.m. today (Monday).
According to Roger Schrotenboer, who handles maintenance at the school, only 47 yards of the 80-yard soccer field were left undamaged.
It appears that the vandals' vehicle entered at the east end of the school from Sheller Road, tearing up a section there, and then continuing to the south end of the soccer field where at least six passes were made through it.
The yard immediately in front of the school was also a target.
"The yard wasn't as bad because there is still grass in the ruts," said Schrotenboer. "But the ruts in the soccer field are six inches deep and sod was really thrown out."
"We're going to have to fill it in with sod, for sure, and then pack it down. We don't know what it will cost," said Dean Wagenaar, principal.
"It's fortunate that we don't have a home game this week. Next Tuesday is the next game, so we have a week to bring it back into shape," said Wagenaar.