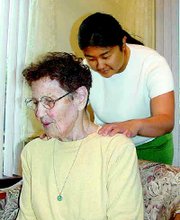 In the next week or so, massage therapist Sunee Conklin will begin making house calls to Hillcrest Manor.
Mary Arthur, administrator for the Sunnyside health center, helped arrange the program.
"A number of my staff members have enjoyed massage therapy," Arthur noted. "Then when we found out Sunee got into massage therapy to work with the geriatric population we knew it absolutely would be a good idea."
The move continues an ongoing trend at Hillcrest, which this summer hired its own occupational and speech therapist.
"It's been shown that someone may recover more quickly if they have massage therapy before beginning physical therapy," Arthur said.
Conklin said she will continue seeing her regular clients and will make time twice a week to visit Hillcrest Manor residents.
Hillcrest's residents range from long term stays to those in for just a few weeks to recover from surgery. The new massage therapy program will be available to all of them on an individual pay basis.
The benefits of massage therapy for seniors include increasing blood flow and, in some cases, lowering the dosage of pain medications, Arthur noted.
Ruth Ray, a 90-year-old Hillcrest resident, knows full well the benefits of massage therapy.
"I had back surgery in 1949 and that's what got me going," she said of massage therapy "And it still keeps me going," she added with a spry smile.
Conklin said she will also be providing general touch therapy. "I can offer a very light massage that increases the endorphins to help with depression,"
she said.
For those recovering from hip surgery, for example, Conklin said massage therapy can also help reduce scar tissue.
"It all depends on what the patient needs," noted Conklin.
Arthur added that massage therapy will reap benefits for her residents beyond their physical condition.
"It doesn't just help with the patient's health and range in motion," observed Arthur. "It can also change the attitude of the patient and their whole outlook on life."