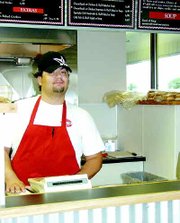 by Frances Potts
The familiar red, white and black logo of Bruchi's cheesesteak and sub shop is now at home in Sunnyside.
Bruchi's, owned by Scott Hanson of the Tri-Cities, opened at noon Friday, Sept. 23, in Mid Valley Mall on Yakima Valley Highway.
"We wanted a real slow, quiet opening," said Lorenzo Cano, manager. "We'll have a grand opening in a few weeks, but we didn't want to open with a big shebang."
However, the quiet noon opening did not go unnoticed, Cano said.
"I had to go out shopping for a belt, and I was wearing my Bruchi's tee shirt and people around me were saying 'Bruchi's is in Sunnyside now? It's about time you got here'." Business has been steady since, he noted.
Along with its menu of cheesesteaks, subs and salads, Bruchi's served up seven new jobs for Sunnyside residents.
"The staff trained at the Yakima Bruchi's (which is also owned by Hanson) for four shifts each," said Cano. "Now I have a wonderful crew. I think I have the best crew in the world."
Traffic gets underway at the mall shop when it opens for lunch at 10:30 a.m. Mondays through Saturdays, with closing time at 8 p.m. Sunday hours are from 11 a.m. to 6 p.m.
Although Bruchi's is part of the mall, it is not located within it. It sits on the east corner in space formerly leased by Subway. Its two doors open onto the parking lot.
The interior was completely remodeled to give it the Bruchi look of beige and sand walls with a counter wrapped in matte-finish aluminum. The floors are a sporty brick red, and seating is a combination of booths and tables.
Of course, to distinguish it as a Bruchi's, the red and white triangular logo fixed against a black and white checked banner adorns the windows-a kind of uniform welcome found at Bruchi's wherever they sprout up, be it in the Tri-Cities, Spokane, Seattle, Yakima or Sunnyside.
Cano, born and raised in Yakima, has been in the fast food business since he was 16 years old. A 1999 graduate of Davis High School, he joined the Job Corps at one time with a little different career in mind.
"I thought I wanted to do something in the medical field, so I went into Job Corps and earned my NAC (nursing assistant certified) license," he said.
After putting the license to work in nursing homes for a little more than a year, Cano had a change of heart. "Underpaid and overworked," he said, succinctly.
Although he is the manager of Bruchi's, Cano was not above working to get it in shape. He was on the job days before the opening, cleaning up after the remodeling.
"A lot of sweeping and mopping," he said. "But I love my job, and it's a cute town."