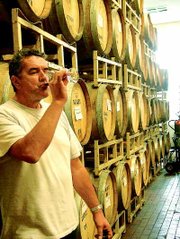 by Frances Potts
A Frenchman whose family has been making wine since 1579 is carrying on the tradition in Sunnyside.
"The vineyards, the cellars, they are a big tradition in France. The wine story today is a world-wide business," said Jean Claude Beck, who brought his grape-growing and wine-making legacy to Sunnyside a year ago.
"The Yakima Valley (with the same latitude as France) has a big potential to make very great wine," claimed Beck. "It is easy to grow grapes here. Only eight inches of water a year. If you use irrigation with intelligence, (use) just a little bit, always sunshine, beautiful cool nights-to give a nice balance in wine. Sunnyside, I think is the best place in the world to make wines."
Jean Claude Beck's accent reflects the German his parents spoke at home and the French he learned in school, a bilingual gift from living in Alsace, which is located in eastern France, bordering Germany.
"Three years ago I spoke English, not until then!" exclaimed Beck, who manages very well in his third language.
Beck came to Apex Cellars in Sunnyside from Ravenswood Cellars in Sonoma, Calif., where he worked for three years. He said the potential of the valley drew him to Sunnyside.
"My first deal was to make Riesling. In Washington state, in the Yakima Valley, you have the potential to make a very, very high level Riesling. Riesling is the best white wine of the world when you make it right," said Beck.
"I'm speaking of a dry Riesling with structure, strength and always the right balance in concentration, acidity, fruitiness and alcohol. All of these factors have to match, everything together. Not too much acid, not too much sweetness. It takes a little bit of time, progress.
"But come back in four months for our 2005 Riesling, and that will be something!," he invited.
In addition to being wine maker, he is manager at Apex Cellars at 111 East Lincoln Avenue. It was formerly known as Washington Hills, but was owned by Apex.
"We shifted gears to focus on the Apex label and get out of the $10 and under category to focus on our premium wines," said Melissa Gamache, tasting room manager, explaining the name change.
"My job is to create a pleasant and inviting environment for people to come in and sample the wines, maybe buy, and get to know more about us," said Gamache, who has been with the winery for five years. The tasting room is open 10 to 5 daily.
A get-acquainted affair they are planning for Nov. 5 is a sort of kick-off to Thanksgiving in Wine Country, which is held Nov. 25-27 when more than 40 wineries will open their doors to celebrate the season.
"We will have a Bistro Club Dinner at the winery at which people will be able to sit down with the wine maker and enjoy a gourmet meal," said Gamache, who noted that reservations should be made for the 6 p.m. dinner.
At that dinner, those who have not yet met Beck may learn that he loves Americans and is convinced his fellow Frenchmen feel the same way.
"It's true, yes, they do!" said Beck, who chose to use a painting of Christopher Columbus' ship for the label on wine bottled at his family's cellars in Alsace.
"Each year, we have a different picture, you see, and this I chose before I even knew I was coming to America," said Beck, displaying a Columbus-labeled bottle.
He also shows great excitement when he tells you his home in Alsace is only 20 miles from where the first map of America was made and where it is still on display.
The roots of Beck's wine-making career are deeper than the 100-year-old vines he worked with in Alsace.
"My family, they have been in the same town, the same house, since 1579, growing the grapes, making wine," said Beck. "I was born Oct. 22 in the middle of harvest, in the winery."
Today, when Yakima Valley grape growers tell him they have been growing grapes "for a long time", and the long time turns out to be 20 years, Beck said he tells them, "Twenty years, that's just when the juice starts to get interesting.
"Twenty years, that's a baby, it's young. Young vines, the yield is bigger, but in old vines there is more complexity, the wood is much deeper and takes what is interesting from the soil and minerals. The soil differs from one vineyard to another. Most of the time you can taste the difference."
Apex owns 235 acres of vines in the hills behind Outlook and draws other grapes from Mattawa, Prosser and Benton City. Beck describes the tastes of each as "Mattawa-spicy Syrah because of more sun, more windy. Outlook-a complex question, very fruity. Sunnyside-a richness from the soil."
Apex produces 25,000 to 30,000 cases annually. The only two wines bottled under Beck's supervision, to date, are the 2004 Sauvignon Blanc and the 2004 Chardonnay.
But, as he says, wait for that 2005 Riesling!