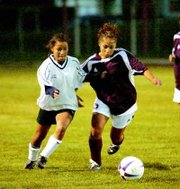 GRANDVIEW - "Euphoric, that's probably the best word for it," Grandview soccer coach Anne Holden said of her team's shoot-out win over Toppenish on Tuesday.
"We've been on the other side of that," she said of a loss in similar fashion to Sunnyside last week.
Following a 1-1 tie through regulation and two overtime periods, Anna George and Ai Tomizawa knocked home shootout kicks for the Lady Greyhounds.
They then watched nervously, along with their teammates, as Grandview keeper Olivia Macias dived for a save to seal the CWAC victory over Toppenish.
The match opened with neither team finding the back of the net for a 0-0 halftime score.
Both teams came alive in the second stanza, as Toppenish struck first with a goal in the 63rd minute. "That kind of woke us up," said Holden. George found the back of the net for an equalizer in the 73rd minute off an assist from Tomizawa.
Grandview consistently outshot Toppenish throughout the match, attempting 11 shots on goals to six for the visitors.
"It was tough but the kids are getting more and more used to the pressure," Holden said of her team's second shootout nail-biter in less than a week. "They've learned to just take a deep breath and pick their spots."
The Lady 'Hounds (2-5, 2-8) are home again this Saturday to take on Connell.