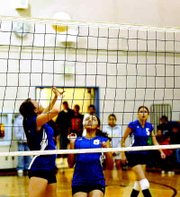 MABTON - The Mabton Vikings played a league match against Riverside Christian last night, losing in three sets.
A slow start and too many offensive errors contributed to a 25-10 first set loss for the Vikings.
"We had some serving errors and a lot of hitting errors," Mabton Volleyball Coach Olivia Mendoza said.
In the second set the Vikings settled down a bit and started to get more confident, Mendoza said.
"They served better and their hits started going in," she added.
The offense improved but the defense suffered as the Vikings lost the second set 25-16.
"We didn't do as well on defense as we should have," Mendoza said.
Mendoza decided to shake things up in the third set by putting in her bench.
"I wanted to see something different," she said.
Although the bench did well, the defense still suffered as the Knights dropped the final set 25-21.
"Riverside's a tough team but I'm happy with what we're doing," Mendoza said. "We have a pretty solid team. We have all the tools but we need to get to a point where we can put everything together when we need to," she added.
Alida Mendoza let the Vikings with 10 kills, three service aces and two blocks.