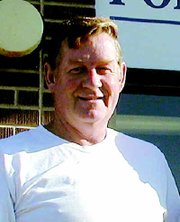 GRANDVIEW - The city of Grandview is mourning the loss of Police Sergeant Ralph Scott, 57, who died suddenly from a heart attack on Tuesday, Oct. 4.
"He had just received his 25-year service pin," noted Grandview Police Chief Dave Charvet, himself a 33-year veteran of the department.
Scott previously worked for the city in the Public Works Department for five years, then another two years in the Fire Department.
But it was as a police officer and sergeant that Scott made his mark in serving Grandview.
"He was real compassionate and caring, one of the kindest people you'd ever find," Charvet reflected. "Ralph would give you the shirt off his back."
For Scott, an avid softball player, serving the city went beyond 9-5. "It wasn't uncommon to find him at Country Park raking the ballfields," Charvet said. "He donated time to the youth baseball and summer leagues."
In addition, Scott often came in to the police office on his days off to help out or to work on the department's computer system. He also spent countless hours grating and building the firing range.
Scott was "understanding, a good listener," Charvet noted. He added, "We'll miss his take charge attitude to get things done. He was dedicated to his job."
Among those surviving Scott are his wife Patricia; daughters Debra, Ann and Gwen and their respective families.
Charvet said the department isn't sure how it will fill Scott's shoes. But one thing is certain, it will find a way to remember a longtime colleague and friend.
"Right at this moment we're grieving his loss," Charvet said. "Then we'll focus on the legacy he's left behind."