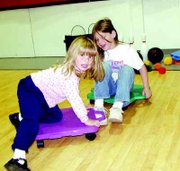 by Frances Potts
Get ready! Get set! Run! Don't walk, if you want to be one of the students included in a first-ever fun and fitness program in Sunnyside.
Registrations are being taken now to fill 40 spots in the program, which begins Oct. 14.
Only 10 students will be taken into each of four age groups, which range from first grade through 12th.
The first to sign up will be given the opportunity to participate in the program that will take place on 24 non-federal, school holidays.
"Students will have the opportunity to come to the center, hang out, learn some stuff about nutrition and about building physical skills," said Jennifer Jones, the second-year college student who is running the program.
The focus for the 40 students will be health, fun and fitness as they learn how to make healthy snacks from provided ingredients, share a healthy lunch, learn about nutrition and keep active through a variety of games and competitions.
"We will have four different stations set up, and students will rotate through each every 45 minutes," explained Jones.
"Each age group will go through the stations, but what is offered at each station will be geared to the level of the specific group. For instance, the junior high and high school students will have more complex work."
"We have a ton of very colorful materials," said Joan Niemeyer of the Sunnyside Recreation Department, which is partnering with the Sunnyside School District and Sunnyside Community Hospital to bring this new program to the Sunnyside community. The hospital will provide the lunches.
A $10,000 grant from General Mills is supporting the program, which is called "School's Out Fun and Fitness".
With some of that money, a game that has become an arcade craze was purchased. The Dance, Dance Revolution Play Station 2 game, which operates from a TV and a pad, involves some fancy footwork that has teens at arcades stepping fast and furious. But it can also be geared for younger users.
"Kids are really into that," said Jones, adding, "The idea is that they experience it here and then go home and, maybe, ask for Dance, Dance instead of some other game. Then they're active and not just sitting at the controller at home. We intend to find lots of fun ways to be active."
Jones emphasized that the thrust of the program is to plant seeds that students can take with them into life to make them healthier and more aware of the nutritious choices they have.
Since only the first 10 students to sign up in each age group will be accepted, it is important for students and parents to register as soon as possible.
Students may opt to attend all of the 24 days, at a fee of $2 per day ($2.50 for out-of-city residents), or even just one day.
There is the opening day in October, three days in November, seven in December, three in January, one in February, three in March, five in April and one in May. All run from 11 a.m. to 3:15 p.m.
A parental permission/ form is attached to the registration form and must be submitted at the Sunnyside Community Center, 1521 South First Street, Sunnyside.
Jones and her sister, Emily, organized and implemented the craft program in the park for the kids this past summer. Following her success with that program, Jones was chosen to head School's Out Fun and Fitness.
"I'm excited. I think it's going to be a good program and a good opportunity for the kids, too," said Jones. "I benefit because I'm getting to work with the kids. This is all stuff I learned when I was younger, and it's good to have the opportunity to remember all of the health elements and interact with the kids."