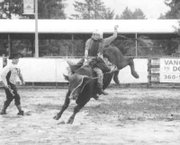 BICKLETON - Size can't measure the heart, and that's especially true with Bickleton's Cody Loomis.
The 15-year-old high school sophomore has a slight build with tousled, blondish hair, but put him on a one-ton bucking bull and you'll see a fierce fighter in action.
"I love the challenge, the adrenaline rush of riding a bull," Loomis said after school Thursday. "You have to have a positive attitude, a mind that you can pretty much ride anything."
Bull riding is one of those rare sports where you know you're going to fall and have a good chance of getting hurt in the process.
Baseball players slide, hoopsters dive for a loose ball, but bull riders are thrown - and thrown hard.
In his four years of bull riding, Loomis has been rushed via life flight after a bull stepped on him and, by his count, suffered three or four concussions.
He's well aware of the dangers - Loomis lost a friend to the sport this past year and he now wears a helmet every time he rides - but the challenge and excitement of bull riding continue to beckon.
Plus, he's just downright good at it.
He's currently tied for first among national high school bull riders. With six events left in the year, Loomis "only" needs to finish the season in the top four to advance to nationals.
He earned $118 at Vancouver, Wash. last weekend and this weekend his mom, Tiffany Osborne, will again load up the family rig to haul him to a bull riding event in Colfax.
"A lot of it is in your legs and balance," he said of his keys to success. "It's intense and not everybody can do it."
Loomis has won as much as $400 in a single bull riding competition, but has his eyes set on bigger purses ranging into the tens of thousands of dollars.
At a bull riding competition in Goldendale this year he tied for third against all-comers, including professional riders.
"A lot of the older guys told me they haven't seen someone so young like me ride so well," he said.
Including this season, Loomis still has three years to rule the high school competition. But he's already eyeing the magic age of 18.
"When I turn 18 I hope to join the Professional Rodeo Cowboy Association," he said. That designation would qualify him for the bigger bulls and bigger prizes he covets.
And don't be surprised if he makes it. After all, size can't measure the heart - or determination - of this Bickleton bull rider.