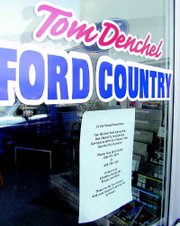 After 13 years, Tom Denchel Ford Country will close its doors in Sunnyside effective next Monday.
Denchel said the Sunnyside store's inventory and much of its staff will be relocated to his dealership in Prosser.
The decision to close the dealership at 301 S. Sixth St. came down to finances and location, he said.
"Basically we were duplicating all our services within a 10-mile radius," Denchel said. "We were duplicating equipment and computer systems."
He added of the downtown Sunnyside location, "We were getting less and less traffic."
That stood in contrast to Denchel's location along the busy highway in Prosser. "It's about location, location, location," he said. "It was just easier to take everything to Prosser."
One of the toughest things about closing the Sunnyside store, he added, was having to lay-off six employees, primarily clerical positions.
"There were some awfully good people down at the Sunnyside store," Denchel noted.
Most of his service employees will now work at the Prosser location.
Denchel's Sunnyside customers will have a pick-up and drop-off service available from Prosser, he noted.
Though Denchel's Ford Country dealership is leaving town, he said he will return to Sunnyside next spring to open a used car store at his old location on Yakima Valley Highway.
"We hope to knock down the old service station there and bring back our used car operation," Denchel said. He noted that the store will result in one or two new hires for sales personnel.
"I probably should have done this a year ago," he said of the need to close the Ford dealership in Sunnyside. "But I am the eternal optimist and kept hoping it would work."