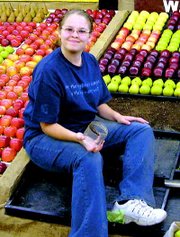 YAKIMA - Fair time means many things to many people. For the Mabton FFA chapter members, it means putting their best foot forward.
At last week's Central Washington State Fair, the Mabton High School students fared very well from among the 30 FFA chapters that were competing for awards.
Mabton's shining moment, perhaps, came in the livestock evaluation competition. Its five-person team placed third overall from 30 entries. The high placing earned the Mabton students a banner to hang at their school.
The livestock evaluation squad of Jessica Fuentes, Josie Chase, Carlee Reynolds, J.T. Reynolds and Marissa Gonzalez also brought home the first place banners from the Yakima fair in the Class 2 Beef Heifers and Class 3 Breeding Ewes evaluation competitions.
Mabton's FFA chapter, too, was one of 13 high school chapters from Selah to Prosser that created an agricultural display at the fair. Choosing the theme of "SWEET Washington Apples," the brightly colored, attractive display earned the Mabton students a seventh place showing.
The displays created by FFA students are judged in three categories-educational value, quality of products and general attractiveness.
Of the 28 Mabton FFA chapter members, 16 of the students participated in the construction of the display.