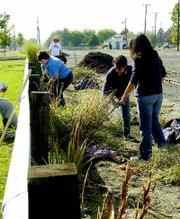 1-Column
Minor injuries sustained in
rear end collision
GRANGER - A 21-year-old Toppenish man suffered only minor injuries when he drove his car into the back of another vehicle this past Sunday afternoon.
Washington State Patrol troopers report that Alfonzo Garibaldo-Martinez, 21, of Toppenish rear ended a 1997 Ford pick-up truck, driven by Sheryl R. Ricard, 36, of Granger. Ricard was stopped on SR-223, waiting to make a left turn onto Bailey Avenue in Granger.
Martinez, driving a 1993 Honda Accord, did not require hospitalization. The WSP said he was treated at the scene of the accident. Ricard, said troopers, was uninjured.
The Sunday, Oct. 9, collision occurred at about 5:55 p.m.
Martinez's four-door Honda Accord was totaled. WSP troopers estimate the damage to Ricard's Ford pick-up at about $500.
Granger industrial sub-area planning project focus
of open house
GRANGER - Lower Valley residents are being encouraged to attend an open house on Tuesday, Oct. 18, that will kick off Granger's new industrial sub-area planning project.
The city of Granger, in partnership with the Yakima Valley Development Association and effected property owners, is preparing a plan to facilitate the development of more than 200 acres of industrial zoned land in the vicinity of the Ferndale grain plant, located at the north end of the city. City officials say through this project they will be addressing a number of key issues that are important to the future of the community.
Specifically, those issues include truck traffic, infrastructure, land use and financing.
The public is encouraged to attend the 7 to 8 p.m. open house at Granger City Hall on Oct. 18.
USDA to buy extra grape juice
WASHINGTON D.C. - The U.S. Department of Agriculture has granted Congressman Doc Hastings' request for a bonus purchase of Concord grape juice, which will be used in the nation's federal nutrition programs.
"This is good news for Washington Concord grape growers," said Hastings (R-Pasco). "This purchase will aid our growers and provide nutritious juice to the school lunch program and other federal food assistance programs."
The USDA's decision to buy up to 22.8 million pounds of Concord grape juice comes less than three months after Hastings urged the USDA to make a bonus purchase.
Graff, Hall earn
4-H fair awards
PUYALLUP - Two local youths earned awards at the recent Washington State 4-H Fair in Puyallup.
Chance Graff of the Lower Valley Livestock 4-H Club in Outlook teamed with two Toppenish 4-H club members to earn reserve champion honors in the intermediate livestock judging competition.
Also, Noelle Hall of the Grandview Ag & Ec 4-H Club won best of breed honors for her French Lop rabbit.
More like this story