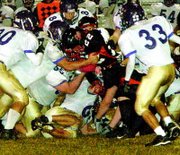 Sunnyside's football team was in it from beginning to end but fell just short in a 28-13 home loss to Hanford this past Friday.
The visiting Falcons struck first, gaining momentum from a successful fourth-down play at their own-30 on the way to a 75-yard drive for a 7-0 lead.
Sunnyside, which rushed for more than 200 yards, roared back with a drive of its own that culminated in a 20-yard touchdown toss by Jaime Sambrano.
That knotted the score at 7-7 after one quarter. Hanford found the end zone twice in the second stanza to forge a 21-7 lead.
The Grizzlies remained undaunted, though, driving for a score to pull within 21-14 on Sambrano's second touchdown throw.
Sunnyside was still within a touchdown heading into the final quarter before Hanford scored on a busted play to put the game out of reach in the final minutes.
"We moved the ball well between the 20's," noted Grizzly Coach Mark Marro. "We out-passed and out-rushed them, but we didn't outscore them."
Marro attributed some of his team's red-zone difficulties to Hanford's defense. "They ran some good schemes against us, they did a good job."
At the same time, he noted breakdowns in blocking hampered his team's efforts. "We just didn't hold our blocks for long enough," Marro said.
Marro said the Grizzlies (0-3, 0-6) will hit the blocking sled this week to work on technique.
"The kids have a great attitude and it was encouraging to be in the game up to the last few minutes," he noted. "I'm real proud of them."
Statistics
Passing:
Sunnyside - Sambrano 12-22-83, two int, two touchdowns.
Hanford - Trent 2-7-75, Debush 1-6-9, one int.
Rushing:
Sunnyside - Miller 24-99, Villaneuva 5-91, Sambrano 2-17.
Hanford - Barnes 30-210, three touchdowns; Hark 5-29.
Receiving:
Sunnyside - Coleman 6-49, two touchdowns; Saldana 1-15.
Hanford - Pierce 1-43, one touchdown; Thomas 1-32.