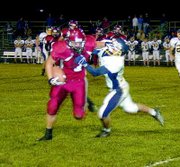 GRANDVIEW - There were plenty of first half fireworks in the air - and on the ground - as the Greyhound football team celebrated homecoming with a 41-6 rout over Naches this past Friday night.
The victory snapped a three-game Grandview losing streak.
Grandview took the opening kick-off and marched to the Naches-9. Facing fourth-and-two, James Vela punched it in from there to put the 'Hounds on the board at 6-0.
The visiting Rangers responded with their only score of the game on a 56-yard touchdown toss that bounced off a Grandview defender into the waiting arms of Naches' Cameron Alexander.
That tied the score at 6-6, but Grandview put the game away with 35 unanswered points - all in the first half.
That included a run of 20 points during the final six minutes of the first quarter, which was keyed by a 38-yard halfback pass, an on-side kick, and a fake punt.
The grab-bag of trickery started with a 42-yard halfback pass from Matt Concienne, a back-up quarterback, to his older brother Kevin. That set up Grandview's second score to put the 'Hounds up 12-6.
The younger Concienne was playing halfback to fill in for the injured J.R. Camacho, who had been filling in for Frankie Medina, out with an injury since the second game of the season.
"We've got five or six guys in casts," said Coach Dustin Lamb.
But the short-handed Greyhounds made short work of Naches.
Tony Chester helped give Grandview an 18-6 lead on a 29-yard reception, which included some juking at the 15 to shake off a would-be tackler. The successful extra point attempt made it a 19-6 game.
With just under three minutes remaining in the first quarter, the 'Hounds appeared to stall as quarterback/punter Brandon Artz lined up to kick the ball from mid-field.
Artz took the snap, but tucked the ball under his arm and wove his way around stunned Naches defenders for a 45-yard touchdown run.
"He always has the option to punt or run it in those situations," Lamb noted. "But I told him the run probably wouldn't be open."
"I was going to punt, but I saw the left side of the field wide open so I decided to see what I could do," Artz noted of the play.
The score and extra point put Grandview up 26-6 after one quarter and the rout was on.
Kevin Concienne put the icing the cake, intercepting a Naches pass on the ensuing possession and taking it inside the Ranger-10.
Concienne finished what he started with a touchdown reception from Artz.
Leading 34-6, Grandview closed out scoring for the half - and the game - on James Vela's 55-yard touchdown catch with 1:12 left in the half.
Neither team could find the end zone in the second half, though Naches got as close as the Grandview-20 on four occasions.
A combination of injuries and sluggish offensive play prompted Lamb to leave his starters in until the final three minutes of the game.
"They came out with intensity in the first half but we didn't play well in the second half," Artz said in assessing his team's play.
Still, the coach was impressed with his team's response, "The thing that impressed me is that we did so well with so many guys playing out of position."
With Toppenish coming to town this Friday - and the chance to lock up a playoff berth - Lamb is hoping for more fireworks from Grandview (2-2, 3-3).
"We want to put together two halves of football," he said. "One half got it done tonight but we can't continue to get away with that."
Statistics
Passing:
Grandview - Artz 15-23-165, four touchdowns, one int. M. Concienne 2-3-38.
Naches - Belton 7-17-86, two int, one touchdown.
Rushing:
Grandview - M. Concienne 15-115, Artz 5-39, Vela 3-11, Castro 1-1.
Naches - Rowan 15-48, Holman 6-29, Callaghan 5-24.
Receiving:
Grandview - K. Concienne 3-41, one touchdown; Vela 7-107, three touchdowns; M. Concienne 3-9; Chester 2-35.
Naches - Alexander 1-56, one touchdown; Shafer 2-18; Stillwell 1-9.