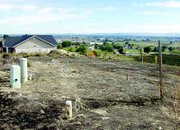 MJB Construction, which has already built and sold two homes on Country View Court in Sunnyside, has plans to build two more. That new construction will just about fill in the cul de sac.
John Booth, owner of MJB, was getting his ducks in a row in September as he applied for building permits, totaling $4,446.
Bob Thomas, who, with his wife Diana, purchased one of the completed homes, had nothing but praise for it.
"He had two built and standing there when we started looking for a place," said Thomas, a former Sunnyside High School principal who retired in 2001.
"I took a look and said 'It's a garage with a house built around it; don't think I'd be interested'. But then we went inside. And I liked what I saw. I like it very much," said Thomas.
Thomas' view, like the other homes on Country View Court, is a panoramic one of the country side and a slope rich in vineyards.
One of those vineyards lies directly across from Thomas' home, and he says he teases the vineyard owner with dire threats, if she ever sells it. In return, she tells him to buy it or she'll put in pigs.
At the moment, both seem to be pleased with the majestic view from their respective homes.
The City of Sunnyside issued a total of six building permits for single family homes in September, with 20 more issued for remodeling or repairs. Two other permits were issued, one for demolition of a building and another for an addition or conversion.
For the month, 42 permits were issued for water meters and water and sewer connections. Other mechanical, plumbing and curbs, gutters and sidewalk permits issued brought the total to 119.
The permits issued in September totaled $28,959.80, with a valuation of $1,455,996.
State charges and planning fees on those permits totaled $1,162.69.
Building inspectors were kept busy in September, averaging 32 inspections a day, for a total of 524. The inspections covered not only September projects, but projects undertaken since the first of the year.