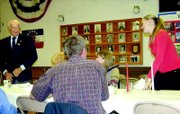 White linen covered the tables. Red, white and blue candles stood amid centerpieces of matching red, white and blue flowers. Flags waved. The American Legion Sunnyside Post #73 was ready for a party Monday night.
The occasion was a dinner especially for the two girls and three boys from Sunnyside High School that the Legion and Auxiliary had sponsored at Girls and Boys State this past June.
Serving time of 6:30 p.m. came and went, and a volunteer kitchen staff of four stood ready to serve the special chicken dinner they had prepared.
At quarter to seven, lacking the arrival of four of the guests of honor, the Legionnaires and their lone guest, Capri Miles, along with her mother and father, Eroll and Dawn, sat down to the celebratory meal.
During the evening, it was discovered that the invitations to Jesus Alquicira, Dan Albrecht and Miguel Murillo had gone astray and they had been left uninformed about the night planned just for them. CaSandra Romera had received her invitation, but was unable to attend.
Legion Commander Walter George apologized for the mistake, as he introduced Miles, who was the after-dinner speaker.
In her talk, Miles told them the Girls State experience had given her a new respect for her flag and country.
"You can't really know about government until you experience it," said the young woman who went through the governmental experience called Girls State in Ellensburg this summer.
"At Girls State, I learned a lot about the election process, and I had the opportunity to be on the Senate as a representative of the Nationalist Party," said Miles.
Her 'Nationalist Party' was a chosen name in the process designed to give young people a hands-on feel for the way the government of the United States works. Boys State was held a week after, and walked the participating students through the same process to let them become familiar with the political world.
"I was able to meet a ton of different girls from all over the state," Miles told the group. "I also learned a lot about different types of people. I still keep in touch with the girls from my 'city' or dormitory floor."
Miles thanked the Legion Auxiliary for providing her with "a wonderful experience", and assured the Legion and Auxiliary members present that her four fellow students who went to Boys and Girls State were just as enthusiastic and appreciative as she was.