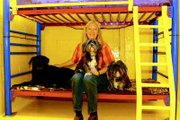 Ever since Lou Hamilton can remember, she's loved dogs. Growing up outside of Prosser on the Rattlesnake hills, she was surrounded by animals.
"We had dogs, cats, goats, cows and horses," she said. They even had some birds and fish and a bunnie or two.
"When I was old enough to put a thought together I thought how wonderful it would be to be surrounded by dogs," Hamilton said.
Hamilton thinks dogs are the real deal. She finds them very loving and accepting no matter the situation.
It was only natural then Hamilton would end up going to school to become a certified veterinary technician. After graduating at the top of her class she took a job as a vet tech. Soon after she left and started working at a large doggie day care.
"It was heaven on earth," she says.
Soon she started baby sitting dogs at her apartment in Portland, Ore.
Recently, Hamilton moved back to the valley and settled in Prosser. She wanted to start work on fulfilling her dream. Her dream of being surrounded by dogs.
It took several months for her to find the perfect place but she eventually found it. The house at 127701 W. Old Inland Empire Highway would be perfect.
There was ample space for her horse and an old dairy barn she converted into kennels.
After a little fixing up, the Sunshine Doggy Resort was born.
The only things missing from this resort are the tennis courts, restaurant and lounge.
There are three sizes of kennels to fit every size of dog. There is even the 'Sunshine Suite.' This large room has bunk beds for multiple dogs or just one rather large one.
The doggy resort even has a pool, although it's not very big. Hamilton said she doesn't think the dogs will complain. There is also a large exercise area where the dogs can run around and play.
"I think dogs are very important and I want them to have a good time when they are away from their home," Hamilton said.
Sunshine Doggie Resort's official motto is, "your dog's home away from home."
The rates for dogs are $15 a night, if more than one dog then it's $12.50 per dog. Cats are accommodated for $8 a night.
All animals must be current in their vaccinations.
.