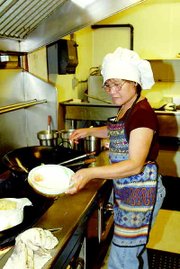 The only Thai restaurant in Sunnyside has a new owner and a new name.
Somkaew "Tim" Harden opened up Siam Thai Cuisine Aug. 1.
Harden was born and raised in Sara Buri, Thailand. She never formally went to a cooking school but learned from her mother and father.
Coming from a family of five brothers and one sister, Harden had plenty of practice cooking.
In Thailand, women traditionally do the cooking so Harden and her sister would cook for the whole family.
"When I was young I would go to the temple with my mom," Harden said. "I would always go into the kitchen and watch the people cook food for the monks."
She's always loved to cook.
After marriage and three kids, Harden sold fish and fresh vegetables in the market until she decided to open up her own restaurant.
"I wanted to have my own business and a restaurant is a good business to have in Thailand," Harden said.
Harden not only owned the restaurant, she was also the main cook. Her restaurant survived for 10 years.
A death in the family brought Harden to the United States. She came here to represent her family during the cremation of her sister-in-law. She then decided to stay here in the states and open up a Thai restaurant.
Harden moved to Bellevue and went to work as a cook in a Thai restaurant. She worked there for two years, learning the way business is done here in America.
Following the death of her husband, Harden moved to the Tri-Cities, where she had some friends. One of these friends had just opened up a Thai eatery in Hermiston, Ore., so Harden went to work there.
She worked there for another two years until finding work at another Thai restaurant in Kennewick. Another year at this place and Harden finally bought her own restaurant here in Sunnyside.
"I love Sunnyside," she says. The first time she saw the restaurant she fell in love with it.
"Sunnyside is a beautiful place," she said. "The people here are friendly and the town reminds me of my rural town in Thailand. I feel at home here."
Siam Thai Cuisine serves Thai food from every region in Thailand.
Some Thai dishes can be very spicy. While most Thai restaurants offer a rating system, such as a 1-5 star system with one star being mild and five stars being very spicy, Harden doesn't.
Harden wants her food to be authentic Thai, but if the customer requests the dish to be not as spicy, Harden will oblige.
Siam Thai Cuisine is open Monday through Friday 11 a.m. to 9:30 p.m. and Saturdays from 1 to 9:30 p.m. It is located at 214 S. 6th in the mini-mall.
It's taken six years for Harden's goal to bear fruit. It's been a long road from Siam.
.