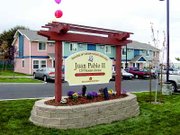 GRANDVIEW - October just keeps getting better and better for Lilia Derobles.
At the end of this month she and husband Daniel are expecting their third child. Near the beginning of the month the Derobles family was one of the first to move into one of the new Juan Pablo II townhouses at 129 Pleasant in Grandview.
A total of 26 townhouses for farmworker families were built at the site by Diocese of Yakima Housing Services and, on Monday, they were dedicated in a formal ceremony.
"It's perfect, wonderful, because my kids are safe," said Derobles. "My youngest (Daniella, age 3) told me she never wants to move, she wants to stay here."
Derobles said her family moved to Juan Pablo II from an old, rundown house in Sunnyside. "There were rats there," she added.
Today the Derobles family lives in a grassy cul de sac, complete with playground equipment. Their home has four bedrooms - including one for the baby - and all the household amenities.
When fully occupied, the development will accommodate about 130 people.
To live at Juan Pablo II, a family must earn a minimum of $3,055 annually from agricultural work and annual family income must not exceed 50 percent of the area median income, or $24,950 per year for a family of four.
Named for Pope John Paul II, the affordable housing development is just the latest by the Diocese of Yakima Housing Services, an agency of Catholic Charities.
Rev. Carlos A. Sevilla, S.J., Bishop of Yakima, along with representatives from Housing Services and Grandview Family Housing Limited Partnership were on hand to dedicate the townhomes.
The latest of eight completed projects to date, Juan Pablo II consists of two, three and four bedroom configurations, including one unit reserved for a site manager.
During Monday's dedication service, Bishop Sevilla said the farm worker homes live up to the city's name - Grandview. "Grandview is vision," said Sevilla. "Juan Pablo II is a wonderful example of vision, a grand view of what it means to help others and to be a Christian."
The "grand view" that is Juan Pablo II includes construction on exterior walls and roofs to make the units structurally strong, quiet and energy efficient. Construction also includes Hardy Siding, a cement-based siding product that has a life expectancy in excess of 50 years.
A community building with computer lab, classroom, great room and adjoining patio area are included in the development. Also provided is a sport court for basketball, volleyball and other physical activities.
Also in the planning stages is a 51-unit development under consideration for Sunnyside.
A new home, solid inside and out, a safe place for her children to play and learn and a new baby on the way are indeed making October a special month for Lilia Derobles.
So how can it get any better than this?
"Today (Monday) is my birthday," she giggled.
.