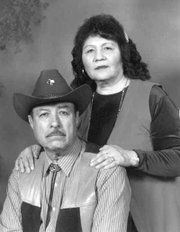 Ernesto and Andrea Rodriguez of Grandview will celebrate 50 years of marriage with the renewal of their vows at Mass at Blessed Sacrament Catholic Church in Grandview on Oct. 15.
Friends and relatives have been invited to join them for the 11 a.m. Mass and for a 2:30 p.m. reception at Grandview Grange.
Hosts and hostesses will be their children, Rudy Rodriguez, Mary Lou Tucker, Sylvia Rodriguez and Gilbert Rodriguez, all of Grandview; and Ernie Rodriguez of Kennewick; Octavio Rodriguez of Prosser; and Sabrina Martinez of Sunnyside.
The goldenweds have 13 grandchildren and two great-grandchildren.
Mr. and Mrs. Rodriguez were married Oct. 5, 1955, in Toppenish. They both retired from Twin City Foods in Prosser.