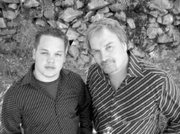 If you've been hankering to hear professionals sing some good, old fashioned gospel songs like Beulah Land and How Great Thou Art, next Monday in Sunnyside is the night for you.
And, even if contemporary is more your style, the Blackwood Legacy can fill that desire, too.
Tennessee-based, this men's gospel group features Rick Price, the former lead singer of the Blackwood Brothers Quartet.
Their performance will begin at 7 p.m., Oct. 17, at First Baptist Church, 401 S. 8th, Sunnyside. Admission is free, but an offering will be taken.
Price is a Gospel Music Hall of Fame inductee, who has continued the legacy of the Blackwood Brothers, the group that dissolved as original members retired. At the time of the dissolution, Price, who came into the group in 1977, gathered new members to create Legacy, a tribute to the Blackwood Brothers.
Joining Price is Perry Jones, a talented and versatile young singer of gospel music. Jones is a former INO recording artist, who toured with the well-known contemporary group Mercy Me. His experience also includes work with Audio Adrenaline, Michael W. Smith and Building 429, among other popular groups.
The Blackwood Brothers were at the height of their fame, singing gospel classics and spiritual standards during the Great Depression. They received nine Grammy awards and 27 Dove awards over their long career.
Pastor Michael Hughes of First Baptist Church extends an invitation to all members of the community to come to the church and enjoy this pair of gospel singers.