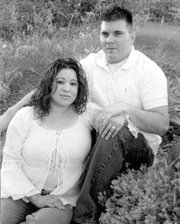 Ruby Rose Hernandez and Michael Lopez have announced their intention to marry on Saturday, Oct. 22.
The wedding will be held at Church of the Nazarene in Grandview.
Parents of the bride-to-be are Charlie and Amelia Hernandez of Sunnyside. Her fiancé's parents are Charlie and Gerri Lopez of Mabton.
The bride graduated from Sunnyside High School in 1998. Lopez is a 1997 graduate of Sunnyside High School.
More like this story