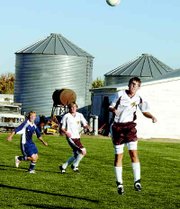 The Sunnyside Christian High School soccer team played a much closer game this time around against Moses Lake Christian but still came up short, losing 4-2 Tuesday afternoon.
In an earlier meeting, Moses Lake prevailed 7-0.
Brendan McCormack got the ball rolling for Moses Lake, scoring in the 9th minute to make it 1-0.
Joel Koopmans, assisted by Aaron Van de Graaf, got the Knights right back into it with a lengthy shot in the 27th minute.
"That was a nice, long shot," Sunnyside Christian Coach Russ Smies said. "It was 30 to 40 yards out and he put it in the corner."
With the scored tied 1-1 Moses Lake put together a furious assault at the end of the half to score two goals.
The Knights did a good job of controlling the ball in the middle until the end of the first half.
Cameron Firouzi scored in the 38th minute and Phillip Frieah added another goal in the 39th minute for a 3-1 edge over the Knights.
"The shot by Frieah was just an incredible shot," said Smies. "He was in the corner and had about a three degree angle for his shot. It was amazing."
In second half action Moses Lake's McCormack scored his second goal of the game in the 45th minute, making it 4-1 and dampening the hopes for a Knights' comeback.
Matt Haak made the score look respectable with a shot in the 79th minute. Aaron Van de Graaf again got the assist.
Smies said his team did much better this time around. The Knights passed the ball well and they had lots of movement. He said it was a fun game to watch.
"Joel Koopmans played very well," he added. "He sees things very well and he played a clean, physical game. He made things very difficult for Moses Lake."
Smies added he was very proud of the way his team (1-3, 3-6-1) played.