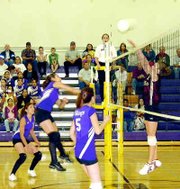 by John Fannin & Corey Russell
MABTON - School spirit and Mabton's seniors were too much for Sunnyside Christian High School's volleyball team Tuesday in a 3-1 loss.
It was Senior Night for Mabton volleyball seniors who controlled the tempo from the outset in a match between Lower Valley rivals.
The win gives the Vikings a 4-4 league record with three league matches remaining.
"Mabton played well, they played great defensive volleyball," observed Lady Knights Coach Andrea Dobson.
After losing the first two games 25-18 and 25-15, SCHS put it all together for a convincing 25-7 win in the third game.
SCHS played the host Lady Vikings close early in the first two games, before Mabton pulled away behind the deafening cheer of its home crowd.
But game three belonged to the Lady Knights.
With the score tied 3-3, SCHS used solid net play and a deep service game to reel off 11 of the next 13 points. The final four points in the surge came on the serving of Jessica Schrotenboer.
The run put SCHS up 14-5 and the visitors never looked back.
"We played well in that third game but we just couldn't keep it going in the fourth," said Dobson.
Speaking of the fourth and final game, SCHS rallied from a 14-9 deficit to pull within 16-14.
But on Senior Night it was fittingly a senior who would get Mabton back on track as Alida Mendoza served consecutive aces.
Chelsey Jones recorded a double-double with 10 kills and 15 digs to lead SCHS. The senior also contributed two blocks.
Tori Van Wingerden was particularly effective at the net, knocking down 20 kills for the Lady Knights.
Jessica Schrotenboer had 14 digs to go with four aces and four kills. Andrea Schutt had a team-high three aces to go with 12 digs and eight kills.
Courtney Rice hustled for a team-high 16 digs.
The spirited match saw both teams compete in marathon volleys and kamikaze-like dives to the floor. But, for SCHS, (4-4, 12-7) that wasn't enough Tuesday night.
"We never got our game going," noted Dobson. "We didn't communicate well, which hurt our chances of winning.
Mabton Coach Olivia Mendoza said her team played well last night. "Our offense played good, they covered well and we served well," she said.
The only downfall, she explained, was the third game, when her Lady Vikes didn't communicate with one another.
Mendoza added the girls took it upon themselves to get fired up for the final game.
Individually for Mabton, Alida Mendoza had 11 kills, three aces and two blocked shots. Myra Diaz added 10 kills and two aces. Also, Mabton's Erica Sanchez had six kills and three aces.
Mabton is scheduled to play Wapato this Thursday.