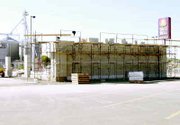 Baker Construction of Spokane cleared land Monday of this week for a retail center to be located adjacent to The Dollar Tree in the east end of the shopping mall on Yakima Valley Highway in Sunnyside.
"This will be a retail center with seven spaces," said Phil Deberry, project superintendent for Baker. "It has a total of 12,300 square feet, give or take change, and Pizza Hut will have the largest space, 3,000 square feet."
"This will be the biggest pizza hut in our franchise," said Don George, owner. Noe Mejia, manager at the present Sunnyside Pizza Hut, will make the move three blocks away to the new building and continue as manager.
Deberry said two other businesses, Quiznos and Check to Cash, are possible tenants.
He said he expects construction of the center to get underway the week of Oct. 17, with asphalt paving to be laid as weather permits.
He indicated that most of the work on the retail center will be done by sub-contractors.
"It should be a five-month project, finished just after the first of the year," said Deberry.
Extensive construction is also being undertaken by Western Warehousing at the other end of the shopping mall, just east of Taco Bell.
Jan Schmalenberg, doing business as Sunnyside Properties and Western Warehousing, owns the property on which he is constructing two, twin, 4,000-square foot buildings and a smaller shop between them.
Ric Whitley of Ric Whitley Insurance, at 2650 Yakima Valley Highway, is purchasing one of the buildings, which will be next to his office, from Schmalenberg as "a package deal", he said, in which Western Warehousing, Schmalenberg's construction company, will do the building.
"It's a spec deal. I will stay in the building I'm in, and lease the new space. I leased the two spots next to me so easily, I thought it would be easy to lease the three or four spaces I'll have in the new building. I don't have anybody in mind right now, but I'm look for office-type tenants," said Whitley.
According to Schmalenberg, Coastal Pacific Mortgage, Coastal Pacific Real Estate, Coastal Pacific Financial and Coastal Pacific Insurance, owned by Risa Campos, will occupy the other twin building.
"Her businesses will go into 3,000-square feet, with another 1,000 available for her to lease," said Schmalenberg. "I will retain ownership of the property between them, and an espresso shop will go in there.
"Its exterior will match that of the twin buildings on either side of it," said Schmalenberg.
"You will see quite a change out there in the next four months," Schmalenberg promised. "We've created a lot of energy and, with the landscaping we're planning, the awnings and all the color, you will see quite a change."
Ron Valdez, project superintendent for Western Warehousing, said the existing structure, which was the former site of K-Mart, will be color matched to the new construction.
"We'll start changing the color of Big K next week," said Valdez. "The area over China Buffet will be a soft yellow, and they'll be rose, light tan, soft blue, all pastels. We'll replace the canopies that I've got hidden away right now. It will all tie in with the new buildings out front."