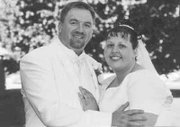 An August 6th wedding in Sunnyside united Kylee Cherie Morrow and Bronnie Paul Tinsley in marriage at the Church of Jesus Christ of Latter-Day Saint, where the reception was also held.
The newlyweds took up residence in Richland, following a honeymoon trip to Disneyland and California Adventures.
The bride is the daughter of Michael and Cherie Morrow of Sunnyside. The groom's parents are James and Gloria Eddy of Naches.
For her wedding the bride wore an A-line, beaded, wrap gown from a private collection. Her bridesmaids also wore A-line, beaded dresses in lavender with white under layers. The women in the bridal party carried white roses with stephanotis and pearls.
Jackie Morrow of Sunnyside, sister of the bride, was maid of honor. Bridal attendants were Yukie Hino of Japan, a friend of the bride; Cher Morrow of Sunnyside, a cousin of the bride; and Lisa Morrow of Sedro Wooley, also a cousin.
Arianna Sanchez of Sunnyside, a cousin of the bride, was ring bearer.
As his best man, the groom chose his father, James Eddy. His brother, Clayton Eddy of Selah, was an usher, along with friends of the groom, Brian Swearngin of Selah and Jamie Swearngin of Selah.
The bride, a 1999 graduate of Sunnyside High School and a 2003 graduate of Central Washington University, is employed as a teacher in Richland. The groom, a 1993 graduate of Selah High School and a 2005 graduate of Central Washington University, earned his graduate degree in physics and is employed as a research scientist at Pacific Northwest National Laboratories.
More like this story