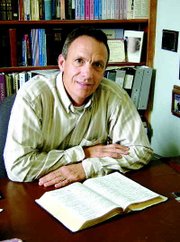 GRANDVIEW - Tucked away on a map of pastoral street names such as Wine Country Road and Appleway Road, is a unique nod to "something completely different" in the form of Monty Python Lane.
A 1970's British comedy television show, Monty Python's Flying Circus was not named for a snake nor is there really a "Flying Circus".
But Python - with its signature line "and now for something completely different" - was groundbreaking, late night satire.
Since its run on British television - and repeated re-runs on U.S. cable stations - Python set the stage for future comedy satire sketch shows such as Saturday Night Live.
And for the past 20 years Monty Python has been a small cul de sac in Grandview, just off of Euclid Road.
"I think it's cool to be on Monty Python Lane," said Grandview High School junior Cris Meza, returning home from soccer practice on Wednesday. "When I was younger my teachers thought it was great that I lived on Monty Python."
Grandview chiropractor Dennis Byam nearly lived on the lane.
He bought a vacant lot there in the mid-80's from landowner Jim Montgomery, before selling it to buy an already completed home nearby.
"That's something that haunts me constantly to this day," Byam chuckled with tongue firmly planted in cheek. "It would have been great to have Monty Python as my return address."
He couldn't remember for sure, but Byam figures it was he or Montgomery who came up with the lighthearted street name.
"It was 1985 and the development was going to be annexed into the city so we had to have a name," Byam recalled. "At the time we were into Monty Python's Holy Grail (film) and we chose that for a bit of humor." Taking a cue from the film, Byam noted the development of about four homes on Monty Python Lane were named the Camelot Division.
Like Byam, other neighbors take the Python road in stride as well.
"I get the funniest looks when I tell people I live behind Monty Python Lane," laughed Euclid Road resident Katie Westenberg. "It's a nice little neighborhood."
Former Grandview Mayor Mike Bren recalled of the Monty Python days, "It was a crazy time, pretty funny. I'm sure whoever named it that wanted to have fun with their mailing address."
To be sure, living on Monty Python Lane isn't always a hoot and a holler.
Byam recalled a conversation between a gravel truck driver and a mailman during the lane's early years, "Monty Python Lane is just down the street," said the driver to the mailman. "Someone must be pulling your leg," replied the mailman.
Besides the possibility of delivery drivers not taking the address seriously, there is another ongoing difficulty with those who enjoy the street name too much.
"They finally had to paint the Monty Python street name in black on the sign post," Byam chuckled. "That's because they can't keep street signs up. As soon as they put up a Monty Python Way sign someone comes along and takes it down."