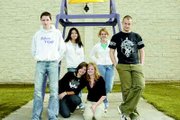 MABTON - Chocolate in America sucks. At least that's what four out of seven foreign exchange students attending Mabton High School think.
Other than chocolate, the seven students are having quite a time here.
Germans Carina Clausius, Madlen Petzsche, Chris Ruehlmann and Sarah Masing, Mark Prussing of Denmark, Marina Lim of Uzbekistan and Benedicte LeCointe of France all came to the United States to learn and improve their English.
"I wanted to know, learn more about the American culture and meet new friends," Clausius said. She also wanted to see some of the differences between the United States and Germany.
The most striking difference between the United States and the exchange students' home countries are the schools. They all agree there is no "school spirit" at their native schools.
"You can feel the school spirit here," said Petzsche. "Here I like to go to school and in Germany, I didn't. It's fun here. Everybody's really nice here and open. You can talk to the teachers here like they're your friends."
LeCointe agrees. "In France we don't have the same relationship with the teachers," she pointed out. "Teachers just teach. Classes in France are depressing and boring."
Prussing likes the fact schools here are organized and not as chaotic as they are in Denmark.
In Uzbekistan, Lim says, students go to school six days a week. There are no school buses and students must drive or walk to classes.
The students also like the fact they can choose their own classes here.
Sports are another difference here. Besides Uzbekistan, the other countries represented by the students don't have high school sports.
All the students are in sports here or plan to participate some time during the school year, they agree. Prussing plays on Mabton's undefeated football team. Petzsche and LeCointe are on the volleyball C squad. Ruehlmann and Lim plan on playing basketball.
The landscape here is a bit different too. Prussing likes that he can see mountains here. "Denmark is pretty flat," he said.
"There is no desert in Germany," Ruehlmann added.
"I like the American way of life," LeCointe said. "Friday night football games are exciting."
LeCointe thinks Americans are friendlier and more open than her countrymen.
Most miss their family and friends and one even misses the family dog but other than that, they're quite happy to be here.
Except for the chocolate thing. "I miss the chocolate in Germany," Clausius said. "The chocolate here is horrible."
"I was told by friends the chocolate here sucks," Ruehlmann added. "So I brought 2.5 kilos of chocolate with me."
That's 5.5 pounds. Hopefully, he shares some of that with the others.