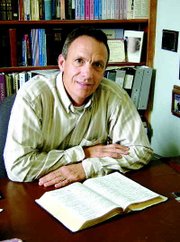 GRANDVIEW - Volunteer firefighter, substitute bus driver, and gardener are just some of the hats that Pastor Dennis McDonald of Grandview Christian Church wears.
McDonald, 45, says his goal is to work outside of the "four walls" of a church building and reach out to the community.
"The church is great about freeing me up to do that," says McDonald. He adds that his responsibilities as full-time pastor come first. "If I have an appointment with the church then that has to take priority."
McDonald and his wife Jan came to the Grandview Church five years ago after he completed training at Puget Sound Christian College in Edmonds.
"We came here to visit and thought it would be a nice place to go for a weekend," McDonald said of his first visit to the church after he completed college.
Little did he know that a "weekend" would turn into years. McDonald and Jan appear set to plant deeper roots in Grandview and the Lower Valley as they are in the process of buying a new home.
"The people here just grew on us, we love them," he says.
McDonald's life before Bible college and the ministry involved restaurant work for 17 years.
He had grown in the business to the point that he was just about to become partner in a Medford restaurant.
"I loved the business, the people, and I was on my way to realizing my dream of owning my own restaurant," McDonald reflected. "Then Jesus Christ got a hold of me."
But even a change in perspective and in priorities wasn't enough for McDonald to pursue the ministry. He said he resisted it for a couple of years but then, following a bout with cancer, made the decision to change his life's direction.
"We sold our house and went to Edmonds without a job," he said. The McDonalds' faith was rewarded as he quickly found a job waiting tables in the Edmonds area.
The Grandview church he now pastors also took a step in faith in bringing on a full-time pastor.
"Relationship building is the key," McDonald said of his approach to ministry. "I wanted to be a pastor, yet be able to relate to people not only in the church, but in the community as well."
In addition to his day's work for the church, McDonald was a substitute teacher in the Grandview School District before becoming a substitute bus driver.
He is also in the process of studying in a program to help debrief fellow firefighters following any serious fires or emergency calls.
"When I was in the restaurant business I was able to help people get away from their troubles for a few hours," he said while tending to flowers in front of the church.
"Now, through Christ, I can help them with their problems for a longer period of time," he added wistfully, "for eternity, if you will."