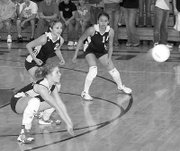 It was one of those matches when one team made all the right moves and the other simply could not get in gear.
Thursday night, unfortunately, it was Sunnyside's volleyball team which failed to click in a 3-0 home loss to Ellensburg.
"Overall as a squad we performed poorly," noted Coach Angel Carrizales. "Out of our starters only one or two were proud of their performances."
Earlier this season the Lady Grizzlies took Ellensburg to five games before losing in a Mid-Valley League battle.
On Thursday it was the same two teams in name only as the visiting Bulldogs dominated at the net and displayed an improved serving game. "That was the difference for Ellensburg," said Carrizales. "They served the ball much better."
Sunnyside struggled with its serving and, with the match out of hand, finally scored on consecutive serves in game three.
"We overpassed a lot of balls on top of the net," added Carrizales. That, in turn, set the table for the Bulldogs' 6-3 sophomore Kayla Standish, who blasted the home team for seven kills in the first two games combined.
Sunnyside trailed just 5-3 early in game one and that was as good as it got in a 25-12 loss. Ellensburg roared out to a 6-1 lead in game two and never looked back in a 25-12 romp.
Game three opened with a revamped line-up for the Lady Grizzlies.
"I think maybe there was a mental block, we just didn't show up to play," observed Carrizales. "Since my starters weren't getting the job done I decided to give other girls a chance to prove themselves."
The final score of game three's loss was the closest, 25-16, but that was due to a late Sunnyside rally from a 16-4 deficit.
There were bright spots in the lopsided loss, Carrizales pointed out. Kerri Urrutia had 20 digs to go with four kills and three aces, and Claire Schilperoort added 15 digs and three kills. Talia Spini added three kills and four blocks.
Next up for the Lady Grizzlies (1-8, 3-12) is this weekend's Crossover Classic in Spokane.
"We have a huge opportunity in a non-league tournament to rededicate ourselves to the program," Carrizales said, "It's an opportunity to revisit our season and figure out what it will take to make districts."
She added, "Sometimes late in a season you get in a lull, so hopefully the tournament will be a chance for us to have a good time and learn a little, come back a better team."