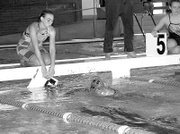 YAKIMA - The Sunnyside High School girls swim team got its first win of the season yesterday, beating Clarkston 84-44. The girls also swam a meet against Ellensburg, losing that one 102-55.
"They did pretty darn well," Sunnyside Coach Scott Southard said. "They swam the best they have swam all year and I'm really pleased with how they swam as a team."
In the 200 medley relay, Bailey Morris, Hannah Glockner, Megan Razey and Rachelle Durfey came in second with a time of 2:20.63. Alyssa Savriol, Ellora Wahle, Josie Clark and Nicole Prigge of Ellensburg finished first with a time of 2:18.67.
Durfey's time in anchoring the 200 medley relay was the best of her career.
She went on to win the 200 freestyle with a time of 2:24.11 while Glockner came in fifth with a time of 2:45.19.
Katie Knee took first place honors in the 200 individual medley in 2:31.11, beating Clark of Ellensburg by 11 seconds.
Ellensburg's Prigge was the winner of the 50 freestyle, swimming a time of 30.69. Razey took fourth with a 32.27 clocking and Julianna Robert placed seventh in 39.31.
Knee's time of 1:13.80 in the 100 fly was good enough to beat Clarkston's Rachelle Ausher's time of 1:23.97, but fell short of Clark's time of 1:10.74.
Morris and Brittany Bonilla took fourth and fifth in the 100 freestyle with times of 1:11.75 and 1:18.81, respectively. Savriol of Ellensburg won it in 1:05.63.
Durfey pulled away from Amber Panter of Ellensburg to win the 500 freestyle with a time of 6:29.27.
"Durfey and Panter were neck and neck the whole race," Southard said. "Rachelle just put on the jets in the last 50 yards to touch first."
Razey finished fourth in 1:18.81.
Knee, Robert, Bonilla and Glockner took second in the 200 free relay with a time of 2:14.19. They beat Clarkston's time of 2:58.58 but lost to Ellensburg, which timed a 2:06.67.
Morris placed fourth in the 100 backstroke with a time of 1:25.32. Ellensburg's Panter won the event in 1:12.47.
Glockner and Robert finished second and fifth for Sunnyside in the 100 breaststroke. Glockner had a time of 1:25.11 and Robert finished in 1:36.33. Wahle of Ellensburg won the race in 1:20.49.
Knee, Razey, Morris and Durfey combined for a win in the 400 free relay. Their time of 4:30.85 edged out Ellensburg's time of 4:32.31.
"I'm pleased with all seven girls," Southard said. "They all showed up ready to work hard and work together."
Southard was especially pleased the team got a victory for Bailey Morris' last home meet.