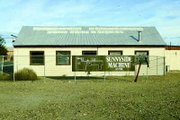 Farmers in the Sunnyside area have been coming to Sunnyside Machine the last 10 years for repairs to their equipment.
They will have to find a new place as the shop at 1719 Morgan Road owned by Dave and Kathie Copenhaver is closing down.
The machine shop did mostly farm repair work - lathe work to build up and turn shafts and truck drivelines. Copenhaver also welded and fabricated farm equipment.
This will soon end as the Copenhavers sell off their equipment and close their doors.
"We're getting out for a change of scenery," Kathie Copenhaver said.
The Copenhavers will definitely stay around Sunnyside for the rest of the school year until their son graduates from Sunnyside High School. After that, they are pretty much open to anything.
"I liked running a machine shop here in Sunnyside," Dave Copenhaver said. "I enjoyed working with the farmers and the community.
"I appreciated their business," he added.