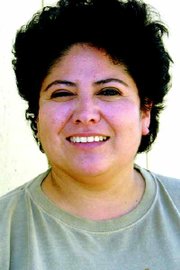 A woman who has been dabbling in pageants for years is taking over the reins of the Miss Sunnyside Pageant from Jennifer Golden, long time pageant coordinator.
The woman to whom Golden is turning over the spring-through- fall job is Teri Alvarez-Ziegler.
Alvarez-Ziegler said the experience she has acquired while squiring her senior high daughter, Marlee Ziegler, through pageants since she was seven years old helps her feel comfortable accepting the job.
"I don't plan to change anything," said Alvarez-Ziegler. "I want to keep it the very same and try to keep up Jen's good pageant reputation. The Miss Sunnyside Pageant is recognized as one of the best in the Valley, and that is to Jen's credit."
Alvarez-Ziegler said her daughter's almost-life long relationship with pageants earned her five national titles and six or seven state titles.
"She was also Little Miss Sunnyside when she was seven or eight. It's just something we do, and think is fun," she said.
That background led her to volunteer for the Miss Sunnyside Committee.
"And then it just turned out that Jen didn't have time to do the pageant any more and I was available. I did go through an interview process to be sure my vision and my goals were the same as the committee's," said Alvarez-Ziegler.
She joins five others on the Miss Sunnyside Committee: Jennifer Golden, who will remain on the committee; Yolanda Phillips and Lucette Garcia, chaperones for the court; Pat Kezele, who tends the books and tracks the funds; and Bruce Epps, who handles everything mechanical for them and also secures a place in which the girls can practice during the summer.
Two of the committee members, Phillips and Garcia, came to the board after their daughters had served on Miss Sunnyside courts.
"They enjoyed it so much, they decided to join and help," said Alvarez-Ziegler.
The committee meets monthly to discuss with the Miss Sunnyside Court events, fund-raisers, parades and anything else pertaining to the young women serving on the Miss Sunnyside court.
Golden will still be serving as coordinator Sunday, at the 7 p.m. Coronation Ceremony, held each fall for the new court selected in September.
""It's still Jen's court," said Alvarez-Ziegler. "My first official duty will be to recruit candidates in the spring. I'll visit schools and leave information, and then follow up with a meeting for the girls and parents who have shown interest. There are always a lot of questions, financial questions, to clear up. Then the girls practice throughout the summer, and identical casual wear is purchased for them.
"Right now, I'm kind of on hold, but I've already made plans what my theme will be and have talked to someone I want for emcee since Greg Smith is retiring from the pageant.
Greg emceed the Miss Sunnyside Pageant since 1991, I think. I can't tell who I've asked; it's a secret, but I think 'they'll' do it," said Alvarez-Ziegler, sneakily using a non-gender pronoun so as not to give even a hint.
"I'm very excited. I think working with the girls will be fun. I just hope I can keep the pageant up to the level Jen has it at."