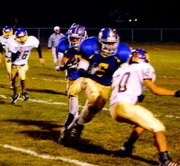 MABTON - On paper, last Friday's game should have easily gone Mabton's way. After all, the Pateros Billy Goats brought only a 2-2 league record into Mabton, and the undefeated Vikings were playing on their home field.
But when halftime rolled around, Pateros had a 7-6 lead and the Vikes looked like anything but a team currently sitting atop the Central Washington 'B' League standings.
"Pateros had two weeks to prepare for us," said Mabton Coach D.J. Search. "They played nine guys in the box against us. They scouted us well."
At halftime in the locker room, Search simply told his Vikes they weren't doing what they had been coached to do.
"We told the kids there had been too many offensive and defensive breakdowns. Too many mistakes. That they weren't executing," he said.
The Vikings got back to business after the halftime break, taking on a resemblance of their former selves enroute to blanking Pateros the rest of the way. Mabton scored what would prove to be the only TD it would need, midway through the third quarter. A fairly long drive was capped off by a Ray Elizondo 5-yard touchdown run, which put the Vikes up 12-7.
Mabton added an insurance score in the final period to increase its lead to 18-7, which is where the final score ended. QB Alex Zavala, who rushed for a game high 132 yards on 20 carries, plunged into the end zone from a yard out to account for the final tally.
The Vikings took the early lead in the game in the opening quarter. Zavala connected with Eric Tellez on a 13-yard TD pass to give Mabton a 6-0 advantage. Zavala finished Friday's contest with 125 yards through the air on 10-of-14 passing. The two interceptions he served up both came on two-point conversion attempts.
The Billy Goats countered with a score of their own late in the first quarter, when a streaking Gabe Bighouse got behind Mabton's defensive backs and hauled in a 63-yard scoring pass from Rory Cormack. A successful PAT kick by Brandon Ledoux gave Pateros a 7-6 lead.
The Pateros QB put up 18 passes in Friday's game, but only connected on six of them. Two of his passes were picked-one by Pablo Sanchez and the other by Moises Gutierrez.
Any and all first half drives Mabton attempted against the Billy Goats after falling behind ended up being snuffed, mostly because of the flags that were being pulled out of the officials' pockets and thrown onto the field.
"There were a lot of penalties on both sides," said Search. "It really slowed down the pace of the game," he explained, adding that his club must have been whistled for infractions at least a dozen times.
"It's about executing, and we weren't doing much of that the first half," he said.
After the halftime break, Search said his players got back to playing close to the way they are capable of performing, and ground out the 18-7 victory.
"It was kind of ugly, but we won," he said.
Individually, Mabton not only got the game high 132 rushing yards from Zavala, but received a 112-yard rushing performance from Sanchez and a 94-yard effort from Elizondo. Receiving-wise, the Vikings were led by Tellez, who had two catches for 33 yards, and by Sanchez (3-for-17) and Lupe Campos (1-for-30).
The Vikes (6-0, 7-0) will play their second and final non-league game of the season this coming Friday at home against the class 1A Highland Scotties (1-5, 2-5). Search said it's tough to tell how good of a team Highland has, considering three of their losses have been to powerhouses Royal City, Zillah and Riverview.
"Highland beat us pretty good last year, 26-7 I think," said Search. "It should be a good test for us."