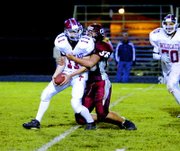 GRANDVIEW - The Toppenish football team succeeded in controlling the clock Friday in an attempt to ground the high-flying Greyhound offense.
But when Grandview's offense did have the ball it made the most of its chances in a 26-3 CWAC win.
"They came out with a good scheme to control the ball and keep our offense off the field. They would pretty much use up the entire 40 seconds on the play clock on each snap," Greyhound Coach Dustin Lamb said of Toppenish. "They've really improved in the last year under their new coach."
Toppenish may have won the battle regarding time of possession, but the 'Hounds won the war.
Matt Concienne sparked Grandview in the first quarter by blocking a Toppenish field goal attempt. 'Hound quarterback Brandon Artz scooped up the live ball and returned it all the way for a touchdown, only to have officials call Grandview back to mid-field due to a penalty.
But the Greyhounds at least had the ball, and found paydirt on an eight-play drive which culminated in a James Vela scoring dive from three yards out.
Speaking of Vela, Lamb moved him from wide receiver to running back for the game in response to Toppenish's strategy of double-covering the senior. The ploy freed Vela for 55 yards rushing and three touchdowns on eight carries.
After Grandview went up 13-0 on a sustained drive early in the second quarter, Lamb went to the play book for an onside kick.
Grandview recovered and, again, made short work of excellent field position to score and take a 19-0 halftime lead. A touchdown catch by Kevin Concienne capped the drive. It was one of seven receptions hauled in for Concienne for 111 yards.
Toppenish found enough running room in the third quarter to sufficiently milk the clock and keep Grandview's spread offense at bay.
"They only had 86 yards rushing as a team for the game but they managed to keep us off the field for most of the first and third quarters," noted Lamb.
The 'Hounds struck for their only second half score in the third stanza following a gutsy 10-play drive.
Toppenish finally cracked the scoreboard in the final five minutes on a 41-yard field goal.
"We executed our plays very well, but we're still playing too much 'bend but not break' defense between the 20's," said Lamb.
The second-year coach praised the hustle play of senior linebacker Rigo Rodriguez, who recorded three-and-a-half sacks for the game.
Grandview (3-2, 4-3) has won two in a row, and will try to continue its momentum at always-tough East Valley this Friday.
"We'll try to be a little more aggressive on defending first and second downs," Lamb said of his hopes to slow down the Red Devils. "We'll just have to be tough and execute on every play."
Statistics
Passing:
Grandview - Artz 16-28-195, one touchdown.
Rushing:
Grandview - Vela 8-55, three touchdowns; Matt Concienne 10-31; Artz 4-22; Valencia 4-18; Camacho 2-8.
Receiving - K. Concienne 7-111, one touchdown; Guillen 4-41; Vela 2-18; M. Concienne 2-17; Poteet 1-11.
First downs: Grandview 19, Toppenish 10.