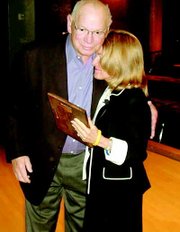 Jon Smiley, CEO of Sunnyside Community Hospital since 1992, was the surprised recipient of an award given to him in Seattle last Friday.
Smiley and Mary, his wife who was in on the secret, were in Seattle for the annual meeting of the Washington State Hospital Association.
The award presented to him is the 2005 Joe Hopkins Memorial Award. It was created in 1987 in memory of Joe Hopkins, former administrator of Cascade Valley Hospital in Arlington.
The award is given to an individual who has the same vision and dedication to Washington's hospitals that was displayed by Hopkins.
Past winners came from both urban and rural hospitals.
Smiley was nominated because of more than four decades of work in Washington health care, including volunteer advocacy for the Washington State Hospital Association. He is currently chair of the Rural Hospitals Committee. He also is a representative on the Yes on 330/No on 336 Committee.
Before coming to Sunnyside in 1992 as CEO of the hospital, he was CEO of a hospital in Edmunds.
Smiley was unaware that he was to receive the award, and hospital staff and his wife kept the news a surprise. A videotape congratulatory message from Sunnyside and Grandview hospital board members and staff were played at the meeting.