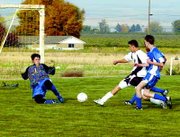 The Sunnyside Christian soccer team got a much needed league win Friday afternoon, beating the Trout Lake Mustangs in a shootout, 2-1.
Trout Lake scored first in the 15th minute when Dannon Kavanagh took advantage of a bad transition by Sunnyside's defense. "Our fullback wasn't able to get back in time," Sunnyside Coach Russ Smies said. Kavanagh's a pretty fast player and he got behind us and just took it in."
Jake Bosma evened it up for Sunnyside two minutes later when he scored an unassisted goal.
"That was a big goal for us to even it up," said Smies.
The score remained 1-1 for the rest of the half despite Sunnyside having more shots on goal.
In the second half the Knights dominated the field, taking 11 shots on goal while the Mustangs managed zero.
Coach Smies said the Knights couldn't buy a goal.
"They're well coached and they know where to put their players," Smies said. "They'll let us play with them all day but won't give us a shot. It gets frustrating."
The second half ended in a stalemate so the teams played two five-minute overtimes. Again the Knights had more opportunities to score than the Mustangs but again, they came up short.
A scoreless overtime meant a shootout. Trout Lake was up first and put the ball in the net. Aaron Van de Graaf was the first shooter for the Knights. His shot went into the right upper corner and hit the post, banking the ball behind the goalie for a score.
The next Trout Lake kicker put the ball into the net and that was followed by Matt Haak scoring and tying it up at 2-2 in the shootout.
The third shot by the Mustangs sailed over the goal and Joel Koopmans put the ball in for Sunnyside to make it 3-2 in the shootout. John Bosma blocked the next Mustang shot and when Jake Bosma's kick went into the goal, the Knights walked away with a 2-1 victory.
"It was a tough week," Smies said. "We're improving every game. It's exciting to see these guys come together. As long as we can keep improving and nobody gets hurt, we'll do well."
The Knights, (2-3, 5-6-1,) play Riverside Christian at home this Tuesday.