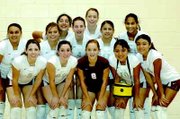 OLYMPIA - After losing two of three matches in pool play, the Grandview High School volleyball team rebounded to win the consolation bracket championship at Saturday's Capitol City Invitational.
The Lady 'Hounds swept Shelton, Puyallup and Black Hills enroute to coming out on top of the consolation bracket.
"The girls played great," said Grandview Coach John LaFever. "We learned a lot."
Grandview's leaders at the net this past Saturday-all underclassmen-were Kinzi Poteet, Kealey Johnston, Raissa Licano and Christine Penwell. Poteet, only a freshman, slammed 33 kills in the six matches Grandview played and came up with 10 blocks. Johnston had a team high 38 kills on Saturday and was credited with three blocks. Licano contributed 26 kills and eight blocks, and Penwell added 22 kills. Johnston, Licano and Penwell are all sophomores.
The class 2A Greyhounds opened the Olympia tourney against the third ranked 4A team in the state, Bellermine, dropping a 25-16, 25-23 decision to the larger school. Bellermine went on to win the tournament championship.
Grandview scrambled back to knock off 3A state ranked Tumwater 25-19, 25-22. In their final pool play match, the Lady 'Hounds took 4A state ranked Bothell to three sets before succumbing. Bothell won the opening game by a 27-25 score, but Grandview sent the match to a rubber game by winning the second contest 25-20. In the deciding game, a race to 15 points, Bothell prevailed 15-9.
In the consolation bracket playoffs, Grandview bested all three opponents it faced. The wins came against Shelton (25-10, 25-19), Puyallup (25-19, 25-23) and Black Hills (25-11, 25-20).
Besides the strong net play from the four Grandview underclassmen, the Lady 'Hounds received some top notch efforts from the service line Saturday. Junior Chante Bottineau turned in, perhaps, the best serving performance, recording a team high 35 service points on the day. Bottineau also had a team high five service aces. Also excelling for Grandview were junior Danika Martinez with 28 service points and three aces, sophomore Jessica Gonzalez with 24 service points and two aces, Johnston with 19 service points and three aces, and Licano with 18 service points.
The assist and passing leaders for Grandview were Bottineau and senior Tonhya Wysong. Bottineau had 122 assists on the day, and Wysong was credited with a team high 171 successful passes.
The 4-2 record posted by the Lady 'Hounds at the Olympia tournament upped their overall mark on the season to 20-5. Grandview is scheduled to return to CWAC league play this coming Thursday, when the East Valley Red Devils roll into town for a 6:45 p.m. match.