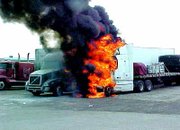 An electrical malfunction is believed to be the cause of a fire that destroyed two semi-trucks in Sunnyside this past Sunday afternoon.
The two rigs were parked at The Outpost, 1825 Waneta Rd., which regularly accommodates truckers during their long distance hauls. Both semi-trucks were unoccupied when the blaze broke out at about 1 p.m. on Sunday.
The fire ignited from the inside of a 1998 Volvo tractor truck, owned by Atlantic & Pacific Freightways of Vancouver. Sunnyside Police Officer Darin Scott said the cause is believed to be of an electrical nature. The blaze quickly spread to a 2005 Central Refrigerated Services-owned semi-truck parked next to the Freightways truck. Both vehicles, said Scott, were a total loss.
Scott said no one was hurt, and that local firefighters quickly extinquished the blaze once they arrived on scene.
The semi-truck cab that caught fire was hooked to a flatbed loaded with rebar and other metals. It is unknown what the contents were in the nearby refrigerated semi-truck that also burned.
Officially, according to Scott, the cause of the fire is listed as unknown at this time, and it is not believed to be a case of arson.