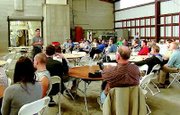 GRANGER - An open house Saturday at Cargill Animal Nutrition in Granger heralded the completion of a 29,000-square foot feed mill expansion with state of the art equipment.
The new addition's mill tower, at 153 from ground level, adds a new landmark to the Granger scene. Another 27 feet of the tower is unseen, unless you visit the basement of the mill where the tower's base lies.
On Saturday a number of guests were invited to take that tour through the mill, starting with the control room, "the brains of the whole operation", according to Andrew Loder, general manager of Cargill's Pacific N.W. Business Unit.
Loder, who is based in Ferndale, was on hand to introduce the new building to government officials and the dairy community it serves. With him was a group of seven, headed by Dave Cieslak, Cargill vice president, who had flown in from Minnesota in a company plane just for the afternoon.
"We're very excited, very proud, to have this facility in Granger," Cieslak told those who turned out for the open house, which included a Power Point presentation, a tour of the plant and a barbecue lunch.
Cieslak told the guests that Cargill has 165 animal nutrition plants in 24 countries from Canada to Indonesia. Its animal nutrition feed industry employs 8,500 world-wide.
And animal nutrition is only one branch of what is one of the largest privately-owned businesses in the United States.
There are five areas of business under the Cargill umbrella-crops and livestock, food, health and pharmaceuticals, and financial risk management.
"You won't see a Cargill brand on grocery shelves, but Cargill ingredients are in chocolate and orange juice. And the Egg McMuffin you eat at McDonald's basically has eggs from Cargill in them," said Loder.
Cargill's operations spread throughout 59 countries, employing 124,000 employees with $60 billion in annual revenues, $1.5 billion in investments and $8 million spent on technology.
"Cargill was started in 1865," said Loder. "Essentially it is the same family, obviously their descendants. Eighty percent of the company is owned by family members, 20 percent by employees."
Its headquarters is in Minnesota where new technology is developed.
The Granger operation is one in the Pacific N.W. Business Unit, which Loder manages. It includes Washington, Oregon, Idaho, Utah, Alaska and parts of Nevada and Montana.
John Conboy, plant manager at Granger, was the project manager for the expansion, with James Dahl, production operations manager, overseeing the project.
The Granger plant employs 23.
The 5000-square foot warehouse in the new building became auditorium and dining hall for Saturday's open house.
Those who took the tour were awed to learn the Granger feed mill does not mass produce any of its feed for dairy cows, but develops specific, nutritional meal feed for the herds of each of its customers.
"Every dairy herd is different," said Conboy, "so a different mix is made for every dairy herd. Formulas are created by our consultants right on the farms. They use our software, which is electronically linked to our formula system and to the system in our control room."
"We focus on the basic nutrients that drive an animal," said Cieslak.
"Our nutritionists probably know more about metabolism and how an animal works than most people know about their own bodies," said Matt Tieschler, who, as business development manager, works with the marketing team and nutritionists who work directly with dairy farms in this area and into southern Idaho.
"We call on our established dairy clients and also call at dairies to talk to them to see how things are going for them, if they need our help or want to make a change in feed supplies," said Tieschler.
The tour guides Saturday were open to questions, and didn't flinch at one that raised the sticky question about Mad Cow Disease.
The question gave Conboy the opportunity to say that the only animal byproduct Cargill uses in its feed is pork blood.
"There are no other animal byproducts in our feed. We don't even allow our suppliers to haul them on any of the trucks they use to supply us, so we don't get even a trace," said Conboy.
Soybean and cannola beans supply the protein for the feed, he added.
The Granger plant produces 168,000 tons of meal feed for dairy cows annually. A new mixer is one of the premier pieces of equipment at the mill. It can mix three tons of feed per minute.
"Does any dairy ever order that much?" was another question.
The answer: One dairy in the Valley requires 120 tons a day. (A cow eats about 35 pounds of grain per day, plus another 35 pounds of dry matter.) "It isn't unusual for a cow to eat over 100 pounds in a 24-hour period," Conboy said.
A grinder and pellet mill are also new additions, both imported from Switzerland. The Granger plant, which until now has produced only meal feed, will expand into pellet feed, which in its more concentrated form takes less storage space on farms and also assures that all of the vitamins and minerals in the formula reach the animals.
"We have quite a wind here," Conboy noted, "and there can be some loss when dry feed is mixed with corn silage or other dry material."
The old plant, known as Ferndale Feed, sits alongside the new building and was used as a mixing facility and bulk storage. It will now be used only for bulk storage.
Perhaps the least dramatic stop on Saturday's tour was the control room-'the brains of the whole operation'. Small and starkly furnished, a counter holds the Repete operating system, which not only tracks every formula on its way through the system, but knows where and to whom it is delivered.
Repete's tracing ability, Conboy explained, assures that every formula contains every ingredient in the correct proportion as developed by the nutritionists on the day they stood with the dairy farmer on his farm.
"We can track every ingredient from the time it enters the plant to where it is today," said Conboy.
"We're proud of what we've got going here," Loder concluded.