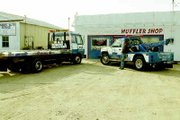 'Need a tow, call a pro' is the logo of the latest towing company to open its doors in Sunnyside.
M & D Towing, owned by Mike Christensen and Doug Porter, started their towing business Sept. 30. Both used to work for Elite Towing but with 19 years experience between themselves, decided to give it a try on their own.
They bought two tow trucks, one a rollback model and the other a conventional, rented a shop at 817 Scoon Road and off they went.
Helping out stranded motorists is Porter's favorite thing about driving a tow truck for a living. "I love it," he said.
M & D Towing is also in the Washington State rotation for city and county law enforcement agencies.
"We're hoping to get some contracts with area car dealerships too," Porter added.
What happens to the cars that get impounded and towed away?
Porters says the owners have 30 days to claim their cars or the cars get auctioned off.
The cars are auctioned off for the amount of expenses incurred by the towing company. Any money over that amount is returned to the state and put into a fund set up for this situation. Eventually the money is returned to the car's owner.
Porter says summer is the busiest time of year for towing but winter can have very busy days.
He listed overheating cars and kids being out of school as two reasons why summers are busy and pulling people out of ditches when it snows as cause for busy winter days.
Porter says he sees a lot of fatalities as a tow truck driver.
"I've seen a lot but the worst is when a child is involved in an accident," he said.
There are some times that make him feel good though.
"I towed a guy from Plymouth to The Dalles one time so he could be home for Thanksgiving dinner," Porter remembered.