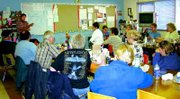 National School Bus Safety Week Oct. 17-21 is being taken seriously by David Taylor and the Sunnyside school bus drivers he supervises.
Last week on Friday, Oct. 14, Taylor sat down with almost all of his drivers to review measures they take to keep kids safe on their rides to and from school.
"We cover 180 square miles a day, with 24 buses and 29 bus routes," said Taylor.
The safety and well-being of the students who ride those buses was the focus of Friday's meeting.
"Twenty-eight years ago," Taylor told his drivers, "you used to be a bus driver. Today, you are psychologists, nurses, parents and mentors to these kids.
"You are the first adult some of them see in the morning. You bus drivers have an effect on these kids' test scores. You can make or break his whole day with your attitude. You do have an effect on their WASL scores," he said.
"You set the tone for everything," Taylor cautioned.
"In the 28 years I've been doing this job, we've never lost one student. It's taken awhile to find some of them, but we've never lost one," said Taylor.
Better communication would probably reduce, or even eliminate, temporarily lost children, Taylor indicated.
He said relatives of children, especially in the area of North Avenue, often pick up students after they are dropped at their bus stops without notifying the parents of the children.
"The aunts or uncles take them off to McDonald's and mom's looking for her kids and doesn't know where they are. Then we get a call, and I start looking for them," said Taylor, who faced one of those situations just recently when it took two hours to track down the missing youngster.
He said children are found with friends, with neighbors and with those relatives who just took the kids for a treat.
Taylor said he doesn't hesitate to call the police to help in the searches. "We don't wait around," he said.
Taylor said there are several ways to alleviate this source of concern. He advises parents to direct their children to go directly to their homes after leaving the bus, and for relatives to encourage that practice. Also, if there is a change in routine, parents should make bus drivers aware of the deviation.
"A note would do the trick," said one of the drivers at Friday's meeting.
One 'lost student' incident came about when a child was supposed to be met at the bus stop by a baby-sitter. The baby-sitter was there, but was sleeping in a vehicle and missed seeing the child alight from the bus. The bus driver, unaware of the change in plans, saw the kindergartner headed safely homeward. Trouble was, no parent was at the apartment to greet the child. Aware that this wasn't normal, the student had the presence of mind to seek shelter with the apartment manager.
"We finally found him at the manager's apartment, but the police should have been called so we would know where the student was," said Taylor.
Temporarily missing children are just one of the problems Taylor discussed Friday with his drivers.
"Five of our buses don't finish their routes until 6:30. With the change to daylight savings time, that means some of them will be dropping kids off after dark. That's a concern," said Taylor.
He said his goal is to have the last student dropped off no later than 6:15 p.m.
Bus drivers are hoping other drivers will be especially cautious in the early morning and dusky evening hours.
The students in the 21st Century and Gear-Up programs are also being tracked by bus drivers to assure that only students in the program ride the buses. One difficulty there is that bus drivers aren't always notified if a student drops from the program. They may have the same student count, but a different student filling the seat.
Again, communication is the key.
Bus drivers have faced some unusual situations, such as the 21-year-old in Outlook, who was using the school bus as public transit at the beginning and end of the day. While convenient, it ended when the bus driver finally determined the rider was not a student.
"That happens from time to time in the Outlook area," said Taylor.
Tracking is a big part of the safety net school bus drivers throw over their student riders.
A major concern expressed by all the drivers meeting with Taylor Friday were the drivers who fail to stop when the lights on the bus are flashing and when its flag is out, indicating that vehicles approaching the bus from the front or following behind must stop to allow children to cross safely.
"We get a lot of drivers passing us on the right to turn into private driveways. If students happened to be exiting in that direction, they would be hit," said one driver.
Some of the drivers have taken their own precautions with their student riders. They have posted Stop-Look-Listen signs on their bus and instructed the children to stop in front of the bus before crossing, to look at the driver to get an approving nod before crossing and to listen for horns, traffic sounds, yelling or anything that might warn them that crossing is unsafe.
Another driver emphasized that she requires her riders to follow nine "expectations" published in the School Bus Expectations booklet by the Sunnyside School District.
Bus Expectations are:
-Follow driver direction.
-Be on time.
-Stop, look, listen and cross only in front of bus.
-Stay seated when bus is moving.
-Talk quietly and be courteous to all.
-Keep bus clean and aisles clear.
-Avoid eating and drinking.
-Respect the property of others.
Drivers with long-time, realistic expectations might say "Good luck" to getting a bus load of students to observe all of them.
As standard safety precautions, bus drivers practice emergency evacuation of buses twice a year, and attend seven in-service days a year to keep up to date on what's new in the safety field. Last Friday's meeting covered blood pathogens, with focus on how drivers can deal safely with the kind of incidents-such as vomiting and bloody noses-that produce bodily fluids that need cleaned up safely. Every bus carries a "Safety Mess Kit" that contains cleaning equipment for that purpose.
Drivers who travel the same routes every day of the school year have become familiar with trouble spots.
Some problem areas, like the intersection at Midvale and E. South Hill have kept a driver sitting as long as eight minutes, trying to cross Midvale. That's an intersection that needs a stop light, the driver said.
Another intersection that needs a stop light, according to a regular driver, is at Highway 12 and the 410 Market. "I saw a little boy get missed by inches crossing there one morning," said the bus driver. That boy was not a bus passenger, but was just crossing on his way to school.
Motorists talking on cell phones are also a concern to bus drivers, who noted that tunnel-vision seems to go along with the call, blocking out children crossing the road. "They'll drive right past our flashing lights," said one concerned bus driver.
Almost all of the drivers have seen their flashing lights and flags disregarded by motorists. Speeding vehicles who have to slam on their brakes to avoid hitting the back of the bus are constant hazards. Students who do not use crosswalks, but cut in front of the bus, have caused a few heart-wrenching moments for the school bus drivers. "These big buses can't stop fast," said one driver.
"Actually, the first rule for drivers is do not put yourself in a situation where you have to slam on brakes," said Taylor. "Our drivers are always driving as far ahead of themselves as they can possibly see."
The drivers Friday aired all of these concerns and more.
The cars speeding past school buses on Midvale Road, since a center lane has been created, has turned it into "a drag strip", according to the driver of that regular route. The speed limit there has been changed from 50 miles per hour to 40. "Maybe drivers don't know that," said Taylor, even though the road is well posted.
Another driver pointed out the danger at Sheller Road and Highway 241 where the speed limit has also been changed from 55 to 50, again something drivers may not have noticed and some aren't heeding.
The bottom line at Friday's safety meeting seemed to be that cooperation between the driving public and school bus drivers is mandatory, if school children are going to be safe traveling to and from their schools this fall and winter.