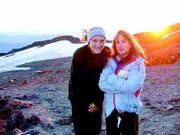 A father's encouragement prompted Sunnyside High School sophomore Claire Schilperoort to attempt something she never thought possible - climbing Mt. Adams.
"I never would have done it without him," she said of dad Tyler.
Schilperoort made the ascent this past August with classmate Britany Messmore and Sunnyside chiropractor Tim Thompson. Tyler Schilperoort climbed with the group for the first day and early into the second before turning back.
"When he turned back I knew I had to finish the climb for him," Claire said.
The fatherly inspiration came at a good time, too, since all agreed the last half-mile or so up to the summit of Mt. Adams, elevation 12,276 feet, was the hardest.
"It was difficult getting up to the top," recalled Messmore. "For every step you took you went back two. There were people climbing above and we had to look out for falling rocks."
But the end result was worth it, they'll tell you.
"I didn't know I had it in me," said Schilperoort. "It was so awesome," added Messmore. "It was pretty windy, but you could see the valley, the trees, it was beautiful."
Wind wasn't the only element they had to battle.
Ironically, with 100 degree temperatures in the valley, the group climbed their way up into freezing temperatures and snow in August.
"We had to rent ice axes and bring a gas tank to boil water," recalled Schilperoort.
Even with the change in temperatures, weather was not much of a hindrance. "When you're working hard like that you don't notice the temperature," said Messmore.
The girls credited a pre-climb workout regimen and the camaraderie of their group with helping to achieve a successful climb. "Tim (Thompson) was our rabbit," laughed Messmore, a cross country athlete "He paced us to get us up there."
Messmore advised any would-be climbers to "bring a lot of food and water...and don't give up."
Schilperoort suggested that those making the ascent up Mt. Adams bring a variety of food. "I got really sick of eating Power Bars," she smiled.
So, are they game for another mountain climb?
"Maybe, but it's unlikely," Schilperoort hesitated.
"I like to try new things," noted Messmore. "Yes, I'm ready for another climb. All it takes for me is a phone call."