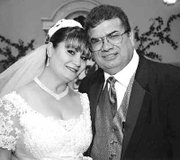 Ray and Janie Anciso of Sunnyside will be honored at a dinner and dance hosted by their children, Shadie and Ray Jr. of Sunnyside, Tammy of Renton, and Danny of Yakima.
The gala will be held Sunday, Oct. 23, from noon to 4 p.m. at Navarro's Community Center in Sunnyside.
The anniversary couple, who have resided in the Sunnyside area for 40 years, renewed their vows Oct. 7, 2005 in Las Vegas, Nev.
They have two grandchildren, Tyler Ashley and Alexandra Anciso. Mr. Anciso is employed by the Sunnyside School District. His wife is a homemaker.