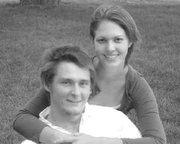 Jessica Harris, daughter of Bill and Debbie Harris of Mabton, has announced her engagement to Scott Collins.
They are planning a May 20, 2006 wedding Mabton Grace Brethren Church.
The bride-to-be is a Mabton High School graduate, currently attending Grace College in Indiana in pursuit of a nursing degree. Her fiance, a graduate of Rochester High school in Indiana, works at Utilimaster in Wakaruse, Indiana. His parents are Mike and Emyle Collins of Plymouth, Indiana, and Rob and Lori Lemler of Bourbon, Indiana.
More like this story